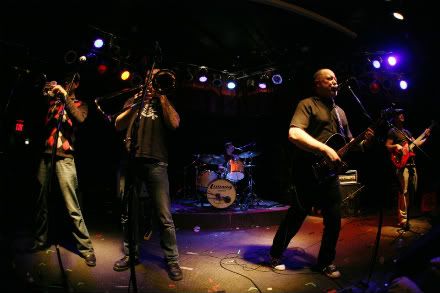 After 30 years, numerous lineup changes and seeing countless ska bands they influenced form, Rob "Bucket" Hingley (with guitar) brings The Toasters to 123 Pleasant Street Sunday
Reposted from
The Daily Athenaeum
The more things change, the more they stay the same. Such is the case for Rob "Bucket" Hingley and The Toasters, the ska band he's fronted since its formation in New York City in 1982.
After enduring numerous lineup changes, and seeing the popularity of ska bands ebb and flow like the tides over the years, Hingley and his legendary "third wave" two-tone ska outfit keep doing what they've been doing, touring and playing shows all over the U.S., and the world.
For Hingley, this is what has kept The Toasters going. On the road to Toledo for a show, bringing ska music to its fans, just like he did after crossing the pond from the United Kingdom back in 1980, is what it's all about.
"We go and play places where people don't or won't reach," Hingley said over the phone, when asked about The Toasters scorched Earth tour schedule, a show per day since mid-January. "That's been the secret to our success, is that we've been road dogs. That's paying us back in spades right now."
The Toasters return to Morgantown for an all-ages show at 123 Pleasant Street Sunday.
Over thirty years, ten studio albums, and countless trends and fads generated by the music industry, Hingley has seen it all pretty much. He said that arriving in New York City, leaving a bustling ska scene in the U.K., finding ska practically non-existent, was a bit of a culture shock.
"There wasn't any ska scene at all to speak of, which seemed strange to me," the singer-guitarist said with some lingering bewilderment. "I came to New York in 1980, right at the high water mark of ska music in the U.K, maybe the high water mark was 1979. But coming from that environment where everybody knew what ska was, and bands like The Specials, and The English Beat, and Madness were coming off of number one hits. And coming to the U.S., where nobody seemed to know what it was about at all, even to the point of going to the Roseland Ballroom and seeing hardly anyone there to see The English Beat, it really was like going from feast to famine. So, getting the band started in 1982, finding like-minded people and musicians wasn't easy."
Fast forward thirty years, after seeing bands The Toasters influenced, like The Mighty Mighty Bosstones, achieve some level of commercial success, Hingley said ska music has went where it's most loved: back underground.
"The support goes up and down, it depends what the flavor of the week is, the way the industry tends to focus on different kinds of music. The way it is now, it's kind of back in the underground, and that's probably the best place for it, because it's a little more nurturing."
Hingley recalled with fondness playing Morgantown in the past, and the support ska in general, and The Toasters in particular, were shown.
"Of course, big cities like New York, Chicago, L.A., there's obviously a lot of support there. But we're seeing pockets in some of the smaller towns, like Morgantown. That's a real yardstick of how healthy it is when you can come play some of the smaller towns and still have the support. Back in the day, it's 123 now, it was the Nyabinghi, they had a lot more reggae and ska bands coming through, and I'm talking ten, fifteen or even twenty years ago, there was a lot more support then. But if it's coming back now it just shows that ska is rebounding a little bit."
It's the spirit embedded inside of ska that, despite any trends generated by the music industry, still attracts people to the sound, Hingley said.
"One thing you have to understand about ska music, you got to take it back and look at where it came from. It came out of the Trench Town ghetto in Jamaica, which at the time was a very, very poor area. And the explosion of ska was associated with Jamaica gaining independence from British rule about that time. It was rebel music coming out of the ghetto. It was an expression of freedom, the same as reggae music.
"It was rebel music," Hingley continued. "In a way it's managed to retain that energy, because even though ska music was exploited by the mainstream record companies in the 90's, it wasn't really the roots bands and not what I would point to as the real ska bands and the core two-tone bands that were exploited. It was punk bands with horns, or studio creations like Smash Mouth that have nothing to do with the ska scene. But because some record execs put that label on it, that was the flavor of the week. But fortunately that didn't destroy ska music and the real ska bands.
"I think a lot of kids, when they come into it, they see that there's fifty-five years of roots and culture, they might start out liking Mighty Mighty Bosstones as a portal, and they can trace that tree all the way back to those early artists from Jamaica. They see that it's real, and people identify with it. It's not a Frankenstein monster created in some major label lab."
Coming back to Morgantown for an all-ages show and exposing a whole new generation of fans to ska
That just goes to show the fact that the style is really resilient, and has something to say to young kids. Because if they didn't like it they wouldn't come. It attracts kids from whatever they come from, whether they're punk rock or metal kids. If you can find a way to mean something to kids, they'll still come out."
When asked how much The Toasters have left in the tank, how much longer they'll be playing out, Hingley said he doesn't expect any changes anytime soon.
"You have to ask my wife that," he said with a laugh. "We've got a few more years, there are still some places we haven't been yet."
--- The Toasters play 123 Pleasant Street Sunday with The Staggering Cardoons, Black Action Cop, Call us Next Tuesday and special guests The Business Fairy and QUOTE. Doors open at 5:30, show starts at 6 p.m., cover is $8 in advance and $10 at the door. All-ages.
Online:
www.toasters.org/
,
www.123pleasantstreet.com/