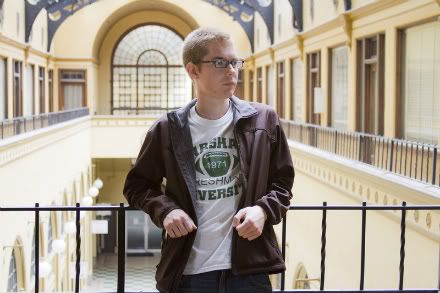 Huntington's Sean Knisely opens up and steps out on his own on his new 10-song solo acoustic debut Wilbur By The Sea, an unexpected change for the 26-year old singer-songwriter.
Reposted from
The Huntington Herald-Dispatch
Life, love and music. That pretty much sums up the story for Sean Knisely.
Known as the singer-guitarist for the now defunct Huntington-based electro-rock band Attack Flamingo, Knisely, for his 10-song solo acoustic debut, "
Wilbur By The Sea
," stripped things down while keeping what was important after things with his band and in his life just kind of ran their course.
"We never officially broke up," Knisely said of Attack Flamingo over the phone. "People were just in different life situations, and just had other things going on. It just kind of ran its course."
While Knisely constantly wrote songs, be it in Attack Flamingo, in Coyotes in Boxes, or as a budding solo artist influenced by the likes of Iron & Wine and Bon Iver, with a voice like Smashing Pumpkins' Billy Corgan, it was his life and his place in the world Knisely found had changed after a very real breakup.
"So, I almost married a girl in December, and that fell apart," the 26-year old said deliberately, to give some back story to the inspiration behind the songs. "That gave me a lot of stuff to work through within myself, and I wrote a lot about that, and that turned into a lot of music. Then, coming out of that I started to question everything. Like, that was the life plan at that point, that was what I was moving toward, and now, what am I doing? If I'm here I want to be here intentionally. I love this place, I have great friends, a family, church, a lot of support, it's really a great community and I love it.
"But at the same time there's this this feeling that if I've never really left home and left my comfort zone, not even moving but just branching out and traveling, then will I look back and wonder what might have been?"
Where Attack Flamingo's faith-based journey was more interstellar, Knisely's inspiration for Wilbur By The Sea took the form of an interstate love song.
"I was traveling down through Kentucky and Tennessee and down to North and South Carolina, visiting friends and writing the verses to those songs. At that point I was searching within myself, feeling stuck. I want to feel like the world is wide open. I want to follow my dreams and there's a limited ceiling of opportunity with the arts in Huntington unfortunately. There's a great community, but I really want to give it a shot to make music what I do," Knisely said with emphasis on those last three words.
"In the context of how much I love Huntington, I feel like, myself and other people, need to be able to leave and explore."
So getting out of Huntington was as much or more of a cathartic experience as it was an artistic exercise for Knisely.
"As I kept writing that stuff, and having been in the relationship and dealing with the aftermath of all that, it just became more personal and I went with it. And I just kept recording because I liked it, not knowing what I would do with it. And I realized that was what I wanted to do."
Opening up his life to others by himself on a stage wasn't something Knisely always envisioned.
"I never saw myself as a solo artist, maybe just because it's more difficult. You have to push yourself, like 'Here's me, I play music, I'm going to get up there and play.' It's more vulnerable than having a band, where it's like a team or a built-in support group. Really I'm more in my element writing a song and playing a song and recording a song than I am going out and promoting it all."
Knisely didn't need to look too far for a welcoming atmosphere and audience for his music, he just walked out the door of his apartment and played on his porch.
"We're calling it porch unplugged," Knisely said laughing. "My friend Joe, he's always had the same exact mindset, only more intensely, of getting people together. Every other Thursday we get together, whether it's his porch or mine. That kind environment suits singer-songwriter, and Coyotes in Boxes, well, just down home sort of folky community vibe. It's where I think the music will thrive, in that kind of atmosphere."
So from one comfort zone to a whole new atmosphere, be it solo musician or solo relationship status, his porch or another state, for Knisely, Wilbur By The Sea is definitely a welcome escape.
"There's a really tiny town in Florida, and I didn't even think it through this deep, but as you're leaving Daytona Beach there's this little sign and all it says is Wilbur By The Sea. It's representative to me of traveling and seeing new things and escaping the comfort zones of life, sort of. I like that."
Sean Knisely's solo debut record "Wilbur By The Sea" is available for streaming or download at
http://wilburbythesea.bandcamp.com/
photo:
Russ Billo
Related:
WildBlog review
of
Wilbur By The Sea