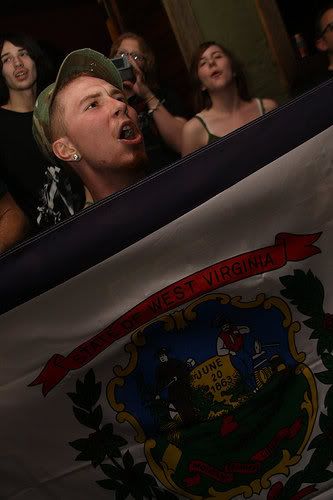 Glen Fork native Zach Francis (above w/flag) continues the tradition of cool Magic Town benefit shows this Sunday night with the second annual MAYSP benefit show at 123 Pleasant Street. Francis also continues the grand tradition of catching up with WVRockscene to talk about what MAYSP is, does, and why it's important. Oh and also the bands --
Bonfire
(now with a new lineup) plays the show for the second straight year after debuting the band there last year. They'll be joined by
Pat Pat
,
FOX Japan
, and a new(er) band,
Sleepwalker
. And there's Francis' pro-ginger rhetoric, which may shock you.
We caught up with Francis to see what's up with this year's show...
WVRockscene:
What's been up with you since
we talked last
? You're in
Belladonna Deadbeats
these days, right?
Zach Francis:
I've been into quite a bit with
MAYSP
since last September, finding my groove and approach as far as advocating and counseling these kids as well as a lot of brainstorming for fundraising ideas (obviously) for us to maintain free services to juveniles of the Morgantown vicinity.
Personally, I spent a decent amount of this past winter revisiting some bass guitar fundamentals. I taught myself a long time ago, but I unfortunately taught myself everything the wrong way. I could make up sweet bass riffs but my technique and understanding of cohesive music was way off-kilter in an unattractive way. So, I took some bass lessons from local jazz bassist Kevin Fryson, who is amazing. Needless to say, we had to start from square 1 as if I'd never played before. Although I don't currently take lessons from him, I acknowledge that he's the reason I at least know what I'm doing on the instrument confidently now. Now I can play around with a lot of "frilly stuff" that I only guessed at during high school.
I'm also happily engaged to a fellow ginger. We plan on repopulating the earth with a flux of redheads. She's very supportive and also keeps me straightened out pretty well. So moving to Star City and wedding plans have taken up a lot of my "extra time," whatever that is.
OH YEAH! Speaking of playing bass, I play for Belladonna Deadbeats. We're coming out with a sassy little EP sometime this fall, I'm hoping. All the stuff is pretty much recorded to our liking at Bebop Studios here in Motown, but we're just taking our time with mixing and such. We've played a handful of smaller shows, and have just had a blast. I'm pretty much the least talented person in the band seeing that our core consists of two fine young women (Ashley and Rachael) that alternate playing drums and guitar while also taking on vocal duties throughout our sets. Our lead guitarist, Brian is just a brutal technical guy. He incorporates a lot of bluesy slide in our songs as well. I just really enjoy being able to add to the dynamic with some steady, simple bass lines. Every once in a while I get a little carried away with something funky or tribal on a song or two, but I mainly just do my part and chill.
By the way, we're one of the bands in the final round of a Battle of the Bands. It's being held on October 1st at the Student Lot outside the WVU football Stadium if you'd like to come check out some awesome bands.
-----
WVRockscene:
How did the first MAYSP benefit show at 123 go last year? And for those that missed our chat what is MAYSP, what do you do for MAYSP and how is it and groups like it important?
Francis:
Let's just say that the success of the show brought in more than we expected both financially and in exposure/networking. It was enough to prove to our agency that we should pursue fresh fundraising ideas significantly more than we had in the past. I was beyond stoked about the turnout and response that we received last year. Great cooperation and volunteerism too. The communal spirit of the whole ordeal was rather inspiring.
Sure. The Morgantown Area Youth Services Project is a non-profit organization that focuses on providing free services for juveniles through various programs ranging from substance abuse counseling to truancy and academic performance issues. The aim of the agency is to reduce violence and drug abuse in this area of Monongalia County in general. I am one of two Transitions Specialists who works specifically with middle and high-school students by visiting them for one on one counseling sessions to monitor whatever they're struggling with on a consistent basis. We get referrals from court officials, probation, family members and the like.
Something I've realized about social service-related causes is that they are worthwhile struggles. This kind of work is not just a paycheck, it is a concern; it is a purpose. In a perfect world, people would not need counselors and social workers, but it is clear that society is not en route to utopia anytime soon. Therefore, small nonprofits will be around to scrape whatever funds they can to provide services and connect those in need to necessary resources that they might not be able to reach within their own limited means due to circumstances and outlying predicaments. I've had several experiences that have confirmed that people, especially youth, sometimes just need at least one person to consistently support them not only during their golden moments, but also during their "rough patches." When you have a network of support encouraging and advising, the results are those of resilience and autonomy. Plainly, better things happen when people have your back.
-----
WVRockscene:
You still work for Danny Trejo? Not
that
Danny Trejo, though right?
Francis:
HAHA! Yes. My boss, Danny Trejo actually used to live in East L.A. many years ago and used to stay in touch with the actor Danny Trejo. I don't know how they were able to meet each other in person and prevent the universe from collapsing! I'm not kidding. He knows, or at least knew, THAT Danny Trejo. It blows my mind every time he confirms it with me during staff meetings.
-----
WVRockscene:
Back to the bands, last year you kind of introduced Bonfire to Morgantown at the MAYSP benefit, and this year you got FOX Japan and Pat Pat (plus Sleepwalker) to play too. There's seemed to be a long-running tradition of Morgantown-area bands coming together for good causes at 123 Pleasant Street. I remember Aaron Hawley doing big shows for the Boys and Girls Club I think it was. How thankful and/or stoked are you that you're able to corral these bands for a good cause, and is there anything special you've picked up on up there that backs up the theory that these bands are down for good causes?
Francis:
As I've mentioned before, the communal spirit of the music scene for these types of events baffles me. I just love it. These bands are local favorites who could understandably demand a lot, but they are just very open and emphatic to play. I'm so psyched about the lineup this year! These are all bands that I want see play live anyway, so it's great that they are just down for it without needing some sort of "convincing sales pitch." I honestly think that most of the musicians here are people who are aware of the social climate and are more than happy to be a part of something that contributes to the betterment of the community. Also, many of the artists of this area have occupations and background in helping folks one way or another. For example, I had several social work classes with FOX Japan's drummer, Pete. In my opinion, that dude had a profound understanding of social policy. I hope all of that makes sense.
-----
WVRockscene:
What else is going on for the show as far as donating or raffles or auction-type stuff? I'd seen you got those precursors to laser discs, you expect to be able to move those things? Any records or anything like alternate revenue stream fundraising that is going on outside of cover charge; you can donate online right?
Francis:
In addition to our fundraising tables having some used vinyl records and CDs like last year, we'll have a decent amount of handcrafted jewelry and goods by
Emily Iafrate
, who has an Etsy store of her own and some other awesome friends of ours.
Vintage Video started joking about donating these "Videodiscs," so I actually took them. They are so odd that I think they might sell. They are like a strange hybrid of vinyl and giant-sized CDs that required the respective player for you to view movies on. They came out before laser discs, so there's not really even much nostalgic demand for them. However, some of the artwork is intriguing on the large outer casings, so, um...we'll see what happens with them. I already have Chris of Bonfire calling dibs on one! hahaha!
-----
WVRockscene:
And there will be art from
Morgantown Aspiring Young Artists
; seen any of it yet? It seems like musicians and artists of the more visual type are like-minded enough to come together for a good cause; what's the response been like for artists who might be showing their work off?
Francis:
I've mainly seen work tagged on their Facebook page and all that I've seen has a great energy to it. I'm pumped to see what will actually be displayed though!
I think people in the social service field and artists (audio and visual) experience a lot of similar things. For starters, their work withstands profuse lack of appreciation and/or support in comparison to the time and effort they put into it. They are both underpaid as well..ahem..
This gives them the chance for more exposure and more networking while also just having a good time, so their response was the same as the bands.
-----
WVRockscene:
You plan on doing this next year?
Francis:
If all goes according to plan, I will be moving on and focusing more on my marriage and future career endeavors elsewhere in Southern West Virginia by this time next year, but I'm sure that MAYSP is going to pursue organizing events like this one in the future whether I'm still with them or not. Who knows? I might even come back just to help out temporarily with next year's benefit show!
--- Bonfire, Pat Pat, FOX Japan and Sleepwalker play the MAYSP benefit show Sunday, September 25th starting at 7 p.m. at 123 Pleasant Street. A $5 donation gets you in the door.
photo: Taylor Kuykendall