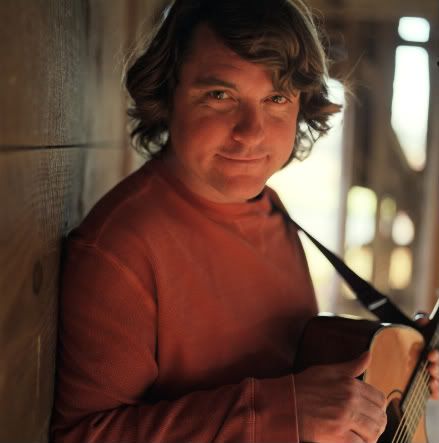 "One-man jam band" Keller Williams comes to Huntington Friday for a show at the V Club
Reposted from The Huntington Herald-Dispatch
For
Keller Williams
, it's all about balance. Whether it's balancing his home life and solo career, his involvement with various collaborations and side projects, or just juggling all the instruments he brings on stage, the "one-man jam band" seems to pull it all off effortlessly, in typical Dead Head, laid back, definitely far out style.
Now, with countless fans due in large part to twenty years worth of captivating live performances, the Fredericksburg, Virginia native, speaking over the phone in advance of
his first Huntington show
Friday night at
the V Club
, said his life is pretty much perfectly balanced.
"The past year and a half or so we've adopted the weekend warrior mentality," Williams said en route to the airport to catch a flight to Milwaukee for a show. "We'll leave on a Wednesday and come back on Sunday, and it's been great. I've got two kids at home, so it's great to have that balance."
One thing that's changed recently is Williams' bringing his funky genre-skipping mix of bluegrass and folk stylings to kids. With last October's release dual release of his "
Kids
" CD (his sixteenth record) and 33-page kids book "
Because I Said So
," Williams now quite literally has fans of all ages.
Maybe you could say he's balancing out his fan base.
"It's just been a natural progression for me and my type of music, and the amount of records that I've done, that a kids record would be done," Williams explained. "It's something I've been tossing around for years and years and I've finally kind of allowed it to happen. And I'm glad I did, too; I'm really proud of it."
As part of his expansion into, or landing on, the kids' world, Williams has started to play a few select kids matinee shows. And whether they help benefit a charitable cause, as they often do, for Williams, it's about finding the right mix of fun and responsibility.
"It's a fun record and doing the kids matinee shows is where I get to play these songs, it's important focusing on the kids music and the kids book, that never really do the kids world and the adult music world meet, as far as these songs. You know, I don't play these kids songs at the night time adult shows.
"But the kids show matinee is just a great venue for these songs, and that's what makes the kids shows super fun for me because I play stuff that I don't get to play at the adult shows."
Williams, famous for his live looping and array of guitars and instruments on stage, and collaboration with other musicians, said that not only has being a parent changed him, but gave him the perspective of wanting to have some music that everyone can enjoy.
"There wasn't a whole lot of hesitation whether to do it or not," Williams said of putting out a CD specifically for children. "We just wanted to make sure we found the right home for it, so to speak. I guess the only hesitation was that we wanted to approach this correctly. I knew the record was okay for the parents, as well as the kids, and that was the direction I went. I wanted to make sure the parents could laugh, and have the kids in the back seats groove a little bit. Hopefully it can achieve some peace and balance in the car ride," he said laughing.
Williams said he was looking forward to playing the V Club, and wanted to make clear he wouldn't stop the show to yell at someone taping or filming his performance.
"I've always allowed taping and recording at my shows. I've always been into the taping community, and that's really what propelled me in my career in the beginning, especially in the mid to late 90's, was the taping community and getting to open for bands like String Cheese Incident, where the taping community was really vibrant."
And Williams said while he hopes his fans will still pay for his music, either online or at a record store, if they want to listen to it for free online, he says pass it around.
"The internet has always been my friend. As far as where the music industry has gone, as far as the whole digital download age and the disappearance of locally owned record stores, the whole idea of the album going away and now people just put it online and people can pick and choose. The way I've come to grips with the digital age, whether it's a computer or on a cell phone is, it's just another medium for music to be heard. You know, tapes, records and CDs always get scratched or tore up, so it's neat to be able to have the music online in pristine, digital form so it can be passed around. It's on the road to becoming immortal."
And rounding the interview out, maybe only half in jest, but totally "out there," Williams said one day he hopes his music can indeed bring some balance to the universe.
"I'm thinking along the lines of my music being sent up into cyberspace, if the world gets blown up by Martians, they can accept this transmission floating around in cyberspace. My hope is, after I'm gone, and the Earth is gone, my music will be played in other galaxies by beings intercepting the signal."
If you go:
Keller Williams
WHEN:
Friday, March 18, 9:30 p.m.
WHERE:
The V Club
, 741 6th Ave., Huntington
COST:
$20 in advance for first 150 tickets sold, $22 after the first 150, $25 DOS.
INFO:
www.kellerwilliams.net/, www.vclublive.com
photo:
C. Taylor Crothers