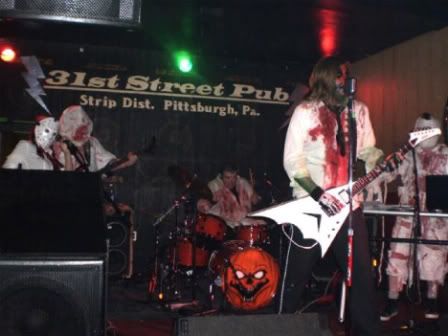 Friday night in Morgantown, fans of horror films in general and zombies in particular converge for the third annual zombie walk. Dressed as any and all assortment of zombie themed characters, starting on North High Street and ending at the Warner Theatre with a showing of Dawn of the Dead, the undead participants will first be treated to the undead punk rock stylings of Transylvania (via Fairmont) band
The Renfields
.
The band, kept together through various incarnations by singer-guitarist Vincent Renfield, has been working overtime to release "Stalk and Slash Splatterama Pt. 2: Exploitation Extravaganza" in time for the zombie walk, which Vincent said means a lot to the band.
"We don't feel like we're part of any specific music scene," Vincent said. "The Renfields are more concerned with promoting the horror scene, so an event like the zombie walk is a huge deal for us. Basically people will gather at the parking lot on North High Street next to the Chi Omega sorority house dressed in their best zombie formal wear. Once all the zombies are assembled they'll start the long haul down High Street in all their shambling, leg dragging glory. The journey ends at the Warner Theatre where they'll all gather for a showing of Dawn of the Dead."
"There's nothing like playing songs like "Night of the Living Dead" and "Zombie Wasteland" to a horde of 300 zombies; just like being back in Transylvania."
Vincent said that he was excited about the latest incarnation of their bassist, The Fiend, and the band's current lineup.
"Other than the Fiend, who just got his new body two months ago, we have had the same lineup for about a year now. We decided to take a break from shows and even looking at bass players for a while because I got so tired of teaching people those old songs. For about a month straight we just worked on new stuff. When we finally started looking at bass players the audition would consist of showing them a new song and letting them write their own part for it. It helped the rest of us avoid burnout."
As always, for The Renfields, there is no burnout when it comes to motivation and influences for their songs: horror movies. Like all their releases and songs, "Stalk and Slash Pt. 2" is an homage to some of Team Transylvania's favorite horror films.
"It's our salute to the trashy drive-in films of the late 60's-80's. We tried to stay true to the spirit of those films: gory, smutty, gritty, and completely over the top. We really wanted to capture the tone of each film in the song as opposed to just having lyrics about the film set to three chord punk rock."
"We did a bit of this on the first "Stalk and Slash" but this time it's much more blatant. As of right now all of the tracks have been recorded, two are fully mastered but they all still need to have the movie samples inserted. Our goal is to have the EP available at zombie walk in a "double feature" with the first Stalk and Slash EP but we still have a lot of work to do mixing and recording some vocal stuff here and there. If not by zombie walk, it'll be available at our next show on October 25th."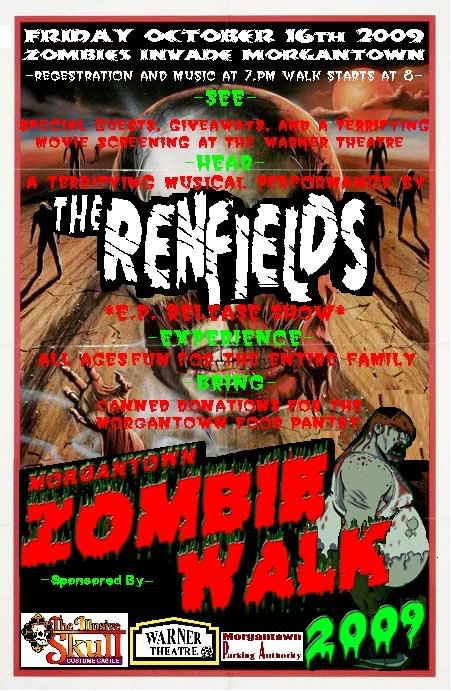 The Renfields decided to do a one-day recording blitz DIY-style to best capture their "blood curdling" mono sound.
"We knew that if we were going to release the EP before Halloween we would have to get moving right away, so we ended up renting out a small venue/studio called Fairmont Music Theatre. We still used all of our own recording equipment but it offered lots of space and a productive environment."
"Everything was done in true Renfields style: lots of writing and adjusting parts on the spot, lots of single takes. I wrote "Deadbeat at Dawn" literally two days before and then worked on it with Fiend and Jaymee Lee that next day. Everyone else had to learn it in the studio the day of the recording, it ended up being our favorite song on the EP. Whenever things would get stressful we would just say "Bastard sons of Ed Wood" and deal with it."
It also helps to have a band member with recording experience, as is the case with their drummer.
"Dr. Herbert [Von Renfield IV] already had experience recording bands in the past and was confident that he could match the sound quality from the last EP. We went into a studio to record the first "Stalk and Slash" and it was a great experience but any time we have a chance maintain autonomy within the band we're going to take it. Plus we've never been too concerned about having that "produced" sound. Especially not when we're singing about ultra low budget horror films."
In addtion to the new bassist, and new CD, The Renfields are looking forward to playing Rich's Fright Farm in Smithfield, Pennsylvania Halloween night with one of their own favorite local punk bands,
The Concept
.
"Obviously we're incredibly excited to get the Halloween slot. They gave us the option of bringing another band or playing it alone. We were tempted to be selfish and keep all the stage time to ourselves but the idea of hanging out with those guys won out. Plus we're out of Concept stickers (Dave!) and we miss hearing "Guitar pick in my Kool-aid"!
For Vincent and the Renfields, through all the incarnations and bassists, it's all about the horror films.
"Sometimes it feels like we're Spinal Tap -- especially with bass players. The Fiend has had a total of seven bodies since his inclusion into the band. Ultimately what ends up happening is that someone will join up, learn all of the songs, start practicing and everything is fine. It's when they finally play their first show the grim reality hits; playing in a burlap sack with one eye hole, no ventilation, covered in blood and grease paint, wearing a ratty suit jacket that hasn't been washed in five years worth of shows."
"After the show most other bands hang out, flirt with girls, and have some drinks or whatever. The life of a Renfield is going home and spending an hour and a half in the shower trying to get all the crap off. For a lot of people it's a big turn off, those of us who get it will continue to charge forward holding the blood stained banner."
Related:
DA article on the zombie walk
Vincent talks with us about the movies that motivated the songs on the new EP