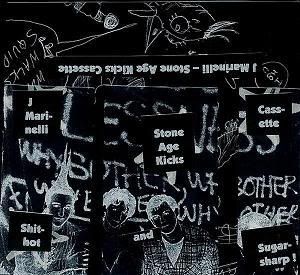 CD:
"Stone Age Kicks"
ARTIST:
J Marinelli
Remember cassette tapes? Depends on how old you are, we guess. But we can, and not getting hooked up with a copy of the limited release
Stone Age Kicks
by Morgantown's
J Marinelli
was a mistake on our part. Now there are no more to buy.
But wait, we have good news. Like all smart operators, Marinelli has turned this limited availability into what we think will be increased demand for this 16-song release from 2007. He's made it available for you as an
exclusive free download
at his latest Myspace blog.
We had procured copies of
Pity the Party
and
Keep It Fake
, each more scrumptious than the last, with the latter seeing heavy rotation on our mp3 player, if that means anything. On this most recent release on Little Sailor, Marinelli takes up all the instruments (geetar/drums/harmonica) he uses by himself and belts out covers of some of his favorites.
High points (for us) include the sullen
"Winterlong"
by Neil Young; the bitter
"Dead Flowers"
by The Rolling Stones; and each of the songs we'd grown accustomed to hearing from The Pixies, including
"Wave of Mutilation"
and
"Head On,"
which is a Jesus and Mary Chain cover. You knew that though.
The only cover that misses is Marinelli's version of
"Hey Whoopy Cat"
by Morgantown's
The Emergency
; seemingly understated and overdriven simultaneously. We say that just cuz we're big fans of theirs, having snatched up copies of
How Can You Move
? and the most recent "Doo-Lang Doo-Lang," which features the high energy Cheap Trick-esque "Whoopy Cat"
But don't take our word for any of this. Click on the link to the download, and give it a listen yerself. If it's your first time listening to Marinelli you'll be well served.
And oh yeah, he's definitely way more DIY than you.