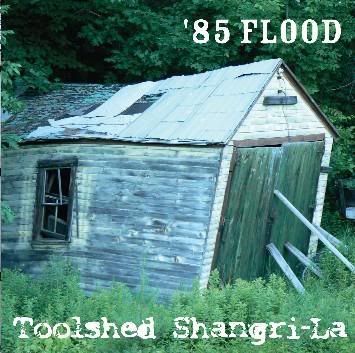 CD:
"Toolshed Shangri-La"
ARTIST:
'85 Flood
'85 Flood's new 10-song release features bluesy garage rock with killer solos and thoughtful lyrics sung with a West Virginia accent. Opening with "Ballfields & Cemetaries" and "Times Like These," "Toolshed" sets off rockin', but the best nuggets are found in the middle of the CD.
"Ghosts of Cabell County" is a spooky rockabilly number about haunted West Virginia hills. We're pretty sure lead guitarist Adam Van Scoy lost his mind on the solo. It's hard to pick an actual "best song" off a CD but not in this case...
"Kill Our Idols" is a thoughtful, carousing bar-ballad about historical idolcide. From Brutus and Cesaer to Judas and Jesus, up through Dimebag Darrell on a "bloody Ohio night," clocking in at over six minutes, it's a song that will likely have lighters up in the bars. Singer-guitarist Aaron Hawley sings in his rugged, raspy voice on the chorus "Don't you know we all wanna kill our idols/more than we want to go livin' like disciples."
These two songs make the CD worth checking out by themselves.
The CD was ably recorded and mixed by Mark Poole at Zone 8 Studios in Granville. With over 41 minutes of listening to do, you'll like what you hear on this CD. Too bad you think of a killer flood.
The band is set for a CD release show at 123 Pleasant St. in Morgantown 2.22 with
The Emergency
. A show not to be missed, and a CD worth checking out.