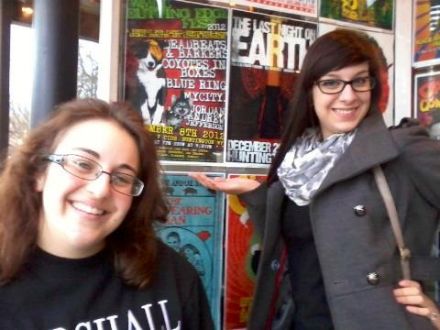 WMUL's Anastasia Artayet (left) and Brittany Barnes (right) get pumped for tonight's second annual WMUL Cutting Edge Fest at The V Club in Huntington. They'll be joined by Deadbeats & Barkers, Coyotes in Boxes, Blue Ring, and mycity.. That's not an unfinished ellipsis, they have a period at the end of the name, and we decided to end our sentence there.
A silent art auction, with work from MU alum Keelan Shepherd and faculty member Ian Hagarty will be held, with proceeds going to Little Victories no-kill shelter, of which we are a fan, so throw a buncha money at that. Cover charge/donations go to Cabell-Huntington-Wayne animal shelter. AND, you can adopt an animal friend on site tonight!
Deadbeats & Barkers frontman James Barker said that The V Club helping the shelters is awesome, and he and the other musicians performing are here to help.
"The Guthrie's have always been good about jumping on board something like this when they can see enough local interest," Barker said. "Local musicians and artists are happy to donate time or work to something like this -- even in a time where they are asked to work for free on almost a daily basis.
"This cause is personal for me seeing as I am an owner of two dogs from the shelter and have always been an advocate of people adopting from shelters."
We caught up with Artayet and Barnes to learn more about the fest...
WVRockscene:
This is the second annual
WMUL
Cutting Edge Fest right? Were you involved with last year's show? How did that go and is this one going to be bigger/better this time around?
Brittany Barnes:
Yes, this is the second Cutting Edge Fest, and I was involved with it last year as well. It was started by the music director at the time, Jessi Sisson. We created it with hopes of getting our name out to people in the community. We have a wonderful asset for anyone that loves or plays music. You don't have to be a student to DJ and you get to decide who and what to play. We encourage all music, especially music straight from W.Va.
Last year we wanted to incorporate that and give students something fun to do during dead week, right before finals and the end of semester. The first Cutting Edge Fest in 2011 went phenomenally well. We kept it simple; six bands played at Shamrocks (RIP) and attendance was over 150. This year we are having five bands, a silent art auction, pet adoption, and we're giving the proceeds to two animal shelters.
Anastasia Artayet:
I was involved with the Spring 2012 Cutting Edge Fest at Shoop's with Sasha Colette, Coyotes in Boxes, and Sly Roosevelt -- this Fall 2012 show is definitely going to be bigger than the Spring 2012 Festival. We have Deadbeats and Barkers, Coyotes in Boxes, Blue Ring, mycity., and Jordan Andrew Jefferson playing this year, as well as a silent art auction featuring Keelan Shepherd and Ian Hagarty. (
ed. note:
JAJ pulled out due to illness)
What's really exciting is that the shindig is benefiting the Huntington-Cabell-Wayne Animal Shelter and Little Victories; you can even adopt on-site at our event starting at 8:45pm!
-----
rockscene:
For those unfamiliar with who you are how far along are you two at Marshall? So.? Jr.? Major?
Barnes:
I am a super senior (3rd semester) Radio/TV production and management major at MU. I've worked at WMUL previously as a DJ and Training Coordinator, and I was involved with Up Late, Marshall's late night talk show.
Artayet:
I am a rising Senior Spanish major in the College of Liberal Arts. I am the founding member of Sound Exchange Society and the WMUL DJ that covers local music. This is my third semester working with the station.
-----
rockscene:
And Anastasia you're involved with covering area bands with Sound Exchange right? I'd seen Ian Thornton mentioning you on Facebook, telling bands to holler at you to play their music. What do you do with Sound Exchange and what is the relative importance from your perspective like you say on the Facebook page, about putting MU students in touch with these area bands? Who are some of your fave area acts?
Artayet:
Sound Exchange Society was an idea that began back in 2010 that hasn't fully blossomed yet; as of right now, I'm the only member of the society! haha I plan to put the plans in effect starting December 20th in order to get the society up and running for my senior year -- I think it is detrimental for Marshall Student Artists and Musicians, as well as Huntington Artists and Musicians, to have an outlet and established circle of communication to get their work and inspiration viewed by the community. With the art walks every first Thursday in Huntington and the Old Main Corridor project, as well as the numerous local venues for live music, I believe we can make Sound Exchange Society a legacy for getting students involved with our neighbors and bring our neighbors to campus, too. How stellar would it be to have live bands and an art walk overspill from 4th Avenue to Buskirk Field and the Memorial Student Center Plaza? We have the inspiration - let's make it happen!
The closest I have gotten to this (so far) is the Fall Festival I hosted with Housing and Residence Life's Commons Hall Council in the Fall 2011, where we had the bands set up in the Ed Grose room of Harless Cafeteria - with local donations from area businesses and the support of campus officials, over 200 students attended! Mind you, this was planned by a friend, Katie Cundiff, and I in a mere 72 hours - imagine what could be done for the area with the right network and amount of planning! As far as local acts, I have profound respect for Sly Roosevelt and AC30; Sly Roosevelt is the reason I joined the scene and AC30's Ian Thornton is my "pusher" and go-to-guy when the bands are dubious about my intentions, and I seriously love listening to their music when I need a break from the daily grind.
-----
rockscene:
What were some of your first awesome experiences seeing a band at say the V Club or just your first experiences being immersed covering local bands?
Barnes:
I'm from Hurricane, about 30-40 minutes from downtown Huntington. I used to go to shows at HYAMP before they closed, and that really influenced my interest in local music. Honestly, I can't remember my first time seeing a band at the V Club, (which may not say much for my moral fiber) but I've been quite a few times since. They have done a killer job bringing music to the area.
Artayet:
Coming from Moorefield to Huntington (almost 300 miles North-East of Huntington) was mind-blowing musically, to say the least -- seriously, growing up I knew the mainstream crap they played on the airwaves hundreds of miles away, like Backstreet Boys and N-Sync, etc. My first concert was O-Town (I didn't get out much as a child). We didn't have media outlets where I grew up (other than country stations). I didn't discover The Black Keys, Apples in Stereo, Wilco, and such until I met Sly Roosevelt. Can you imagine!?
So when I first went to the V Club and started networking with local bands, it was like a kid in the candy store; I wanted to attend all the events! It's so hard to pick and choose what I attend due to my schedule. When I started to DJ with my friend Jerry Smith in the mornings from 6 to 9 in the Fall of 2011, I realized how much I really missed the music scene. My wake-up call was when I was searching through the server for music to play, and I discovered there wasn't a lot of local music on the server and I knew it was meant to be. So in the Spring of 2012, I started contacting people and gathering what I could for the station, and it's been a never-ending beautiful process.
-----
rockscene:
Whose idea was it to have Cutting Edge Fest benefit these area shelters?
Artayet:
Lauren Ware of the V-Club and Black Sheep Burritos and Brews gave us the idea to make the festival a benefit for the shelters; WMUL approached the V-Club for the festival location and they asked if we wanted to team up for the shelter and we didn't have a doubt about saying yes. The animal shelters need this so badly! If our community would come together for not only this event, but the shelters in future support, we could save the health and lives of our fuzzy friends.
I'm going to get on my Bob Barker soapbox here and remind people to spay and neuter their pets.
-----
rockscene:
Just talking with the band members and people at the V Club and people in general, what has the response been like to the show and its charitable function helping animals?
Barnes:
The response has been extremely positive. My parents even said they want to come, haha.
Artayet:
Everyone is SO excited about this event; there isn't words to properly describe the response we have gotten; if you really want to know, you are going to have to come experience it yourself!
The Perfect Chaos by Keelan Shepherd
----- 
rockscene:
You're also involved with showcasing art at the show Saturday, having a silent auction? How is that coming along?
Artayet:
We are indeed having an art auction; as my first auction that I'm hosting, we are keeping it quaint for this round -- Keelan Shepherd and Ian Hagarty are confirmed, and ALL other artists are invited to show up the day of!
They can contact me at artayet@live.marshall.edu for more information about the event.
-----
rockscene:
Any plans for WMUL or Sound Exchange to be involved in the community like this next year or just plans to do stuff like this in the future?
Barnes:
Absolutely. We had a show last spring Anastasia was also involved in, and we want to continue with this. Even though I won't be the director, I expect you will see a show this spring and 3rd Annual Cutting Edge Fest in December 2013.
Artayet:
Sound Exchange Society is planning a much larger event for campus and the community -- I may even begin monthly shows. I recommend following our page on Facebook to stay in the know about upcoming shenanigans, partnerships, shows, and joining the Society to make the connection between campus and the community a reality. I need all the inspiration and manpower people can muster.
-----
rockscene:
So many people love their pets, how cool is it to be able to involve WMUL with these bands for such a great cause?
Barnes:
It has been really great. Everyone that's been involved with planning this show has been incredible. I cannot wait to hear great music, see the local art, and of course adorable animals. What can be better than that?
Artayet:
This has been an amazing opportunity and we look forward to doing more benefits like this with the community in the near future!
--- The V Club will accept these donated items in lieu of the $10 cover charge:
*dog food
*cat litter
*bleach
*laundry detergent
*dog leashes
*dog collars
*blankets
*towels
Cover charge and donations will go towards the C-H-W Animal Shelter and money raised from the art auction will go to Little Victories. Please support this most noble cause. Thanks all around to Lauren Ware/The V Club, WMUL (Artayet & Barnes specifically) and the bands performing and the people who care!