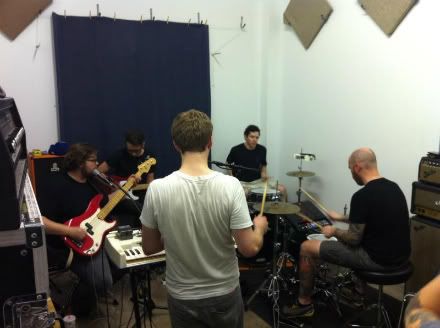 Five old friends (L-R: Aaron Crothers, Anthony Fabbricatore, Ryan Hizer, Pete Wilmoth, Dave Klug) bring a new band to 123 Pleasant Street Friday, as Ryan Hizer (Librarians, Big Ass Manatee) takes his (until now) electronic project
Good Sport
out live...
One of the more exciting developments from 2011 as it relates to covering the "WVRockscene" as it were actually came out of Pittsburgh -- you could say, via Morgantown. Operating as Good Sport, Ryan Hizer released the electro-pop EP And Now We Are Talking.
Fans of his previous bands got excited. But shows failed to materialize though, out of what was essentially a solo effort.
Now, after recruiting longtime friends and Magic Town scene vets Aaron Crothers, Pete Wilmoth, Anthony Fabbricatore and Dave Klug, Hizer and co. have been rehearsing in anticipation of bringing Good Sport to Morgantown Friday for a show with Sleepwalker and The Demon Beat. Since we really liked the EP, and were on speaking terms with a few of these dudes, we thought we'd catch up and simultaneously learn more whilst raising awareness about the music these guys are making...
WVRockscene:
How have the full band practices gone? Where have you been rehearsing at? You guys all live in Pittsburgh right?
Ryan Hizer:
They've gone pretty well. The first one was in the attic of Aaron's old house, but we didn't like lugging all our stuff upstairs, so now we're practicing in a storage facility in Pittsburgh. Everyone lives in Pittsburgh.
Dave Klug:
The band practices have been great. The bummer/weird thing is that I had a stroke in May when we were rehearsing for our first show. Obviously we had to cancel. I'm totally back to normal now but it was a strange experience for sure. I have some memory loss of about two months before the stroke. I forget recording the
Goodwolf record
completely...
Pete Wilmoth:
You could draw a cobweb and that would diagram how we met each other and what other bands we've played in pretty well -- a common experience in Morgantown, where guys are constantly shuffling the deck and starting up new projects. Aaron has been in Pittsburgh for a while, Dave a bit longer, and the rest of us have been part of a small pilgrimage north to Pittsburgh.
It's kind of strange; my "new job" is not so new and I'll be voting as a Pennsylvanian for the first time in a matter of weeks, but I mostly run with the same crew as before. I feel really lucky.
-----
rockscene:
For people who may have been casually familiar with
Librarians
, catch people up with what's been going on with you since
Present Passed
-- how long have you been in Pittsburgh? You move there for work?
Hizer:
I've been here for a little over a year now. I mostly just wanted a change of scenery after doing the same thing in Morgantown for several years, but I didn't want to go too far from my family, so I just went an hour north.
-----
rockscene:
How long have you known these guys and how did the idea of a full-band version of Good Sport get floated?
Hizer:
I've known Dave for about nine years, I joined his old band (
The Minus Tide
) with when I was 19. I met Aaron the same year when Librarians opened for The Emergency at one of our first shows, but we didn't hang out much until a year or two after that. We were in
Big Ass Manatee
together.
I can't remember exactly when I met Anthony. Our bands played together when I was 19 or 20, but I don't think we spoke. He was very involved in Morgantown -- he threw great house shows, was a U92 DJ, organized some comps that I was on, and we had a lot of mutual friends, so he and I became friends too. We were both in
Nirvana 2
and
David Bello and His God Given Right
.
Pete came to Morgantown around 2007, I believe. I met him through Andrew Slater, who was in
It's Birds
at the time and also played with the Wilmoth brothers in
FOX Japan
. Pete and I later played together with Dylan Balliett in
Spirit Night
. I asked these guys if they wanted to help me figure out how to do Good Sport live last December.
Anthony Fabbricatore:
Ryan covered it -- I met nearly everyone that matters to me when I was doing basement shows and DJing in Morgantown. As for band-specific stuff, I did Nirvana 2 with Ryan and eighty other dudes for about a summer and a half, and Pete and I were in the original lineup of
Russian Tombstones
with Dylan, which feels like ancient history at this point.
I guess I volunteered for Good Sport by default back when Ryan was finishing "Pushover" last summer. Ryan and I were driving around listening to some early unmixed versions of the track, and he asked if I had any ideas to fill out the bridge. Well, for over a year, I'd been obsessed with this chopped and screwed remix of a Bun B track, and it wrapped up with this guitar lead that sort of transformed the remix from this ominous trunk/trap beat into just this heavy fucking monumental song.
So anyway I wanted to emulate the same sort of soaring, phased out Peter Gabriel shit, which I believe ended up becoming more of a cornerstone of the project and the band that followed than either of us expected.
Klug:
I've known Ryan the longest from back when he was in
The Minus Tide
. I'm pretty sure he was introduced to us through Mikey Iafrate. I've been helping Ryan with his projects in any way that I can. I think Ryan is a great musician and songwriter. I really respect his opinions. I know everyone else from playing in great bands in Morgantown.
-----
rockscene:
You guys appear to be good friends how long have you guys known each other? How good of friends are you guys, whether it's making music or going to a baseball game?
Hizer:
We're all really good friends who would probably hang out more often if we had the time. I live with Pete and Anthony, so I see them every day.
Wilmoth:
Ryan, Anthony, and I are well into our second lease together, and none of us has ever left a passive-aggressive note on the kitchen counter or anything, so the state of the Good Sport household is strong. That goes for Dave and Aaron, too. The five of us are busy enough that it feels like anytime we're all free, we try to practice. We honestly don't get as many opportunities to just hang out together as I would like.
-----
rockscene:
What was the response to the EP, from either friends or various press type outlets?
Fabbricatore:
This EP was the first "release" from our now-sort-of-on-hiatus digital label
Garbage Days
. I had a very vague idea of how to promote an album, based on my time as one of the directors of a college radio station and also just being like a sensible person who doesn't believe in forcing shit in people's faces.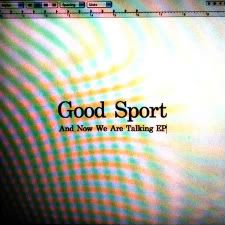 We didn't have anything physical to send to people, so with some help from Ryan and others, we just personally emailed a hundred or so major bloggers with a Mediafire link, a PNG of the album cover and the Bandcamp page and crossed our fingers. And then all of a sudden, there were kids in Sweden putting it on their end-of-the-year lists -- I'd never experienced anything like it.
Klug:
It seems like so long ago. I feel like it was mostly positive. Most people seemed excited about Ryan making music post-Librarians. I definitely was.
Hizer:
It was really good. More people paid attention to it than I anticipated. Lots of foreign blogs covered it, which was really cool. Anthony was a big help getting it out there.
Geoff Hoskinson
shot a video for one track, which got a lot of views/shares. My friends had nice things to say about it. It was cool.
-----
rockscene:
That video for "Pushover," how much fun was that to make?
Fabbricatore:
Yeah that video was a hilarious mess. It was literally Geoff being like "I wanna film you guys doing a bunch of stuff in excruciatingly slow motion." I remember a bunch of awkward scenes, moves, sketches, whatever that didn't make it into the video, like one where I put my head through the collar of Ryan's shirt; someone taking a bite of David Bello's fresh pizza tattoo; Adam Meisterhans being pulled away on a skateboard. It was a great time and Geoff's an incredible filmmaker though, so all of our mid-afternoon fucking around in front of a green screen ends up looking pretty rad.
Good Sport – Pushover
from
Geoff Hoskinson
on
Vimeo
.
Hizer:
I love doing stuff with those guys. The video was a lot of fun because we were winging it. I remember standing in front of a sheet, making some dumb faces, and thinking, "What the hell is this going to be?" But Geoff made it look great.
-----
rockscene:
Going back Ryan, pre-Librarians, as a young lad, were there any synth-oriented bands or acts that influenced you to make the kind of music you'd make in Librarians or Good Sport?
Hizer:
It's funny, at work last night someone played the Jock Jams station on Pandora and I realized all that electronic sports warm-up music had an actual influence on me, at least in terms of how beat-driven they are. So there goes a little integrity.
I listened to a ton of hip-hop, which has informed Good Sport
to some extent
. I remember the first time I realized what a sample was. "Superfreak" came on the radio and I told my mom it sounded like "U Can't Touch This," she just laughed at me.
The wishy-washy synth stuff came later. At one point I was really into "Talkie Walkie" and the soundtrack to The Virgin Suicides, both by Air. I was listening to a lot of Silver Apples and Can while recording the Good Sport EP, but I'm not sure anyone could hear that.
Aaron Crothers:
"So, There Goes a Little Integrity" should be the title of the next EP.
-----
rockscene:
Aaron not only did you play in
The Emergency
, your collaboration with Hizer goes back to Big Ass Manatee right? What were your thoughts first hearing the Good Sport material, and how cool is it to be back in a band with him and these guys?
Crothers:
I got to know Ryan playing Emergency/Librarians shows pretty regularly over a few years. Big Ass Manatee was just too much fun not to join when a spot opened pretty early in their existence. We knew from that our work ethic meshed pretty well, but the need to work together really locked in when we were recording and producing
the last Emergency record
. I had always been the editor in that band, making changes and arrangements, trying to tweak the songs until they were just right. Ryan became my editor and came up with some really amazing ideas, almost all of which made it on to the album.
When he, Tony, and Pete moved here it was pretty inevitable.
And Now We Are Talking
was a quality way to start the whole thing up again. Dave and I were already getting together in his studio to basically just play around, Pete managed to squeeze this into his schedule of being in 37 bands. It all just fell into place pretty quickly. You couldn't ask for a better group of guys to work with.
-----
rockscene:
As far as the sound goes, between Librarians and now in Good Sport -- Ryan, you and your friends have definitely crafted a unique sound. Now taking it out live, how special is it to kind of keep Morgantown weird or just have this kind of creative outlet among friends that you don't see all the time?
Hizer:
It's awesome to have a built-in support system for anything you do. It was really important to me to play our first show in Morgantown with our friends' bands. Not only because it will be great to see everyone, but because I'm going to be really nervous for our first show. This way, If we suck, we suck in front of our friends, and that's OK because they've seen me suck before.
Crothers:
I hear the psychedelic/garage rock quality to the music, but that's what I lean towards in my taste most recently. I'm sure each of us equates it to different influences.
-----
rockscene:
Ryan looking back to the time leading up to getting
Easy Candy Stranger
out how would you compare the feeling you have about Good Sport as a project versus Librarians' early days?
Hizer:
I'm trying to let Good Sport just be what it's going to be, rather than obsess over details and intentionally guide it in any specific direction. I don't have the amount of free time I had back then. If I try to slave over this stuff, I'll never put anything out. I talked to Trey [Curtis] a couple days ago about how we both felt we were taking ourselves too seriously near the end of Librarians. We were still having fun, but all our songs were downers. I'd like to avoid that if I can.
-----
rockscene:
Do you consider what you started as Good Sport folding into a full band permanently? For anyone familiar with the EP is there any more inclination to the weirdness found on Bad Harmonies or toward some more straightforward band type thing?
Fabbricatore:
That seems like the plan. With a couple exceptions with the older stuff, all of the current arrangements are based on contributions and ideas from everyone in the band, building off of either the EP tracks or new sketches that Ryan brings to practice. I certainly want to keep at it.
Hizer:
We'll definitely record some full-band stuff when it's appropriate. It all depends on what serves the songs best. I don't really know where it's headed. I've learned that I almost never succeed when I sit down and go, "OK, I'm going to write a song that sounds like this." I just plug away and whatever happens, happens. So we'll see. I definitely want to get everyone more involved in the recording process.
-----
rockscene:
Is there any plan to record a Good Sport full-length? More shows?
Hizer:
We'll definitely play more shows. We'll probably put out a single next. I'm trying to decide if I want to dive into the stress-fest of recording a full-length. A few more EPs might be more manageable.
Fabbricatore:
At this rate we're on pace to finish a whole record by 2018.
-----
rockscene:
You guys are ringers and veterans of bands but how much are you looking forward to this show at 123 Friday?
Hizer:
I hadn't been thinking much about it, but now that we're within a week, I'm extremely excited. More than anything, I'm just looking forward to hanging out with people at a show.
Klug:
I'm really looking forward to it. The last time I played out was over a year ago with
M Iafrate and the Priesthood
. That group is taking a break at the moment for personal reasons. This should technically be our second show. It's not too soon for stroke jokes.
Wilmoth:
We'd definitely like to get a foothold in Pittsburgh and start playing shows there with some regularity. After all, we're a Pittsburgh band. It's just a tougher nut to crack, because there's not one obvious place where all the bands play. In Morgantown, 123 is the no-brainer choice, and that applies tenfold for our first show together. Even though I probably know fewer people there every time I return, that place genuinely feels like home. I'm excited that we'll be bringing something new to 123 on Friday.
Crothers:
I'm just really excited to play my first home game in ages.
Fabbricatore:
I realized today that I haven't played a show in nearly two years. It's just weird because I've been active in bands for over a decade now, and during that whole time I was booking/playing/DJing a show at least once every three or four months. It's just a part of moving to a new place and leaving a part of your life behind, but there's no venue I'd rather return to for this show.
--- Good Sport plays 123 Pleasant Street Friday with Sleepwalker and The Demon Beat, who are releasing their new record "Less Is Less" at the show...