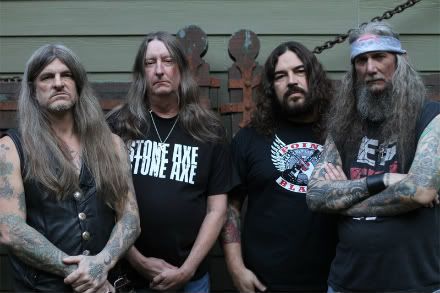 Credited as godfathers of doom metal, Saint Vitus (L-R: Scott "Wino" Weinrich, Mark Adams, Henry Vasquez, Dave Chandler) is back with a new record and are embarking on their first headlining U.S. tour in almost twenty years. The band plays the V Club in Huntington Friday.
Reposted from The Huntington Herald-Dispatch
When
Saint Vitus
got started in 1978, they didn't plan on being progenitors of doom metal. They were just looking to rock out in and around Los Angeles, California, and find a home between the competing camps of metal and punk rock.
But more than thirty years later, Saint Vitus, after a few periods of dormancy, is back with
Lillie: F-65
, their first record in 17 years, and the band is embarking on its first headlining tour of the U.S. in almost twenty years.
Saint Vitus plays the V Club in Huntington Friday with
Weedeater
,
Sourvein
, and
Hyatari
.
Guitarist and founding member Dave Chandler, speaking over the phone from his adopted home city of New Orleans, recalled the tough early days. Before his band jumped on iconic record label
SST
or influenced an entire genre, they had to make a name for themselves in and around L.A., and find a place for their music.
"We were always wanting to play our own thing, to play music we liked and that we grew up on," Chandler recalled matter-of-factly, with a still discernable California stoner-type accent.
"Back then, when we started, it was hair metal," he said, continuing, "Even before thrash or speed metal, it was the Motley Crue era. Those people didn't like us because it wasn't that kind of music, and the punk rockers didn't like us because we had long hair and we weren't punk rockers.
"But when we got into the scene, we realized the punk rockers were a lot more real than the metal people. Because most of the punks had to do it themselves, they didn't have anything handed to them. You had to work your ass off in order to be accepted.
"It took us like two years of that before the punk rockers finally got on our side. And the whole time, the metal people were never on our side. So eventually we started doing only punk shows until we went to Europe in '89 and that's when we started doing metal shows again."
Twenty years later, Saint Vitus, with singer-guitarist Scott "Wino" Weinrich back, original bassist Mark Adams and new drummer Henry Vazquez constituting the lineup, played a reunion show at Hellfest in Clisson, France.
The response led directly to
Lillie: F-65
and the band's first U.S. tour in so many years.
Chandler said he thinks Saint Vitus fans old and new will like the new record.
"We're real proud of it," he said. "I was a little worried when I was writing it, about capturing the old sound, but also having it be modern enough for new fans to get into it. We think we accomplished that.
"This little thing we did over in Europe, well it wasn't little, it was like two months" he said with a laugh, "it was very well taken over there. We're looking forward to seeing how our home people take it when we play it live. So far, from what we've heard, this is gonna be a big tour, and a lot of people are talking about it."
Lillie: F-65
is actually a concept record, Chandler said: some, about his own past drug use (the title actually refers to a barbiturate) and told through the perspective of a fictitious female patient in a psych ward of some sort.
"We've never hidden the fact that we like to party. At one time that was my favorite drug, we used to get it all the time. It was really, really enjoyable," he said with a good laugh. "I don't think I could handle it now, because the actual drug was a horse tranquilizer; so one of 'em will make the average human stumble around the room for a few hours, which is what's great. We've never hidden anything like that. We've written a lot of songs about drug and alcohol use, and dying inside, clear window pane, stuff like that.
"I just always liked the way Lillie: F-65 sounded," he said, continuing. "You can get a double entendre out of it: you can literally talk about the drug, or, you can look at the art and say 'She's Lillie, female patient number 65 and she got abandoned in the asylum.' When I was writing it, it kind of wrote itself into the concept of her twisted mind, all f---ed up on weird drugs; not even drugs she partied on, maybe drugs people gave her to help her "condition," shall we say. And I just kind of twisted it all into the same thing."
This is indeed an exciting time for Saint Vitus considering the abyss the band stared into when they disbanded in the 90's.
"I think it was meant to be, it was time," Chandler said of the dissolution. "In '95, we were relatively popular in Europe, and still in America, we were absolutely nothing and we'd been working at it since '79 and everything was just crumbling and people weren't getting along well. It was just the time to stop it. We figured we'd never get back together."
Chandler said that not only was the hiatus meant to be, it may have made Saint Vitus stronger.
"I wouldn't go back and change anything. If anything, the time off helped us, because when we got back together any animosity that anybody had was all gone, everybody was happy to be doing it again, and the fans were into it, which gave us a boost too. A lot of people have said it made us into this band that people didn't think they'd ever get to see ever again, so all of a sudden we were there again, so it added to the cult or mystique or whatever."
Seeing the passionate fans Saint Vitus had made and the bands they helped influence over the years was a pleasant surprise, Chandler said.
"We had no idea that we influenced all these people until we did this one-off reunion in 2003, and we were like 'Wow!' I'd stayed out of touch with music for a long time, and then when I got back into it, I was in a semi-punk band, so I didn't really know about the doom scene, none of us really did.
"It's kind of amazing, because when we broke up in '95 we thought, 'Well that's it.' We thought nobody cared. But it's really cool to see after all these years, to see how certain generations have passed it on and kept it alive. It's inspiring, and it's why we made the new record. The fans are the reason we did it."
IF YOU GO
Saint Vitus, Weedeater, Sourvein, Hyatari
WHEN:
Friday, Sept. 21, 8 p.m.
WHERE:
The V Club, 741 6th Ave. (304) 781-0680
COST:
$18 adv., $20 DOS
ONLINE:
www.vclublive.com