This entire post can be summed up thusly: A. I am not necessarily a big fan of roller derby, and 2. I am a huge fan of
The Renfields
, have been for a long time.
No, I'm not an intolerant sexist pig -- I am the last person to hate on someone for loving skating, and no, I do not expect a medal for liking the band so much, but yes, I would be honored to help run a Renfields fan site if there ever is one.
The Clarksburg-based "Transylvania pogo punk" band has recently seen some publicity come its way in no small part due to their affiliation with roller derby. The band, long a favorite of mine with their love of punk rock and horror movies, was recently briefly featured in the Gazette in
an article by Bill Lynch
that was short on Renfields, and long on roller derby. And also, The Renfields just had a live version of their new song "Roller Derby Girl" featured on Radio Free Charleston.
Both Lynch and Rudy Panucci do really great work and stay super busy covering acts of all kinds.
But The Renfields are an actual band with actual songs they've released on actual CDs that they've financed themselves. And they're about more than playing roller derby shows. Covering The Renfields as an adjunct to a roller derby event is a disservice to both the roller derby teams and the band.
Of course, it's great that people who cover area goings on will support what has been the local, nascent phenomenon of women's roller derby. I know that Lynch and Rudy have each recently covered and/or supported roller derby events; Lynch did a really nice feature on the Chemical Valley Roller Girls, with some video that was hosted on the Gazette's site.
Panucci recently blogged favorably about the Heart of Appalachian Roller Team event on
his Pop Cult blog
, located on thegazz.com, on a post which quickly dissolved into something approaching a local roller derby conspiracy theory blog, with commenters from the CVRG and HART camps throwing accusations about, albeit in a largely polite manner.
My love of The Renfields dates back basically five years I think, whenever I first heard "Prom Night" on the band's MySpace site. Since then, I've covered the band in Graffiti, the Gazette, and the Herald-Dispatch, and have collected all of their CDs, multiple Renfields t-shirts, have seen the band live a few times and have met the affable, ultra-nice and cool Renfields singer-guitarist Vincent Renfield.
People who know me -- a distinction that will qualify them for the endangered species list -- know that, well, maybe they don't know this, but, back when I went to shows, due to something like social anxiety disorder, found it quite hard to approach band members I had talked to either online or over the phone. 'Ohhh, hey I'm that guy you talked to about your band. Let me waste your time in person now.' Luckily, bars sell a product that helps overcome shyness, but unfortunately, this product (which contains alcohol) has in the past led me to behave in ways that make me glad I didn't talk to too many people in person in the first place.
Getting to meet Vincent was just awesome. The Renfields made punk rock fun again for me. This may not surprise some readers, but musicians have a tendency to take themselves too seriously, or attach their music to causes that aren't discussed in the songs. Pretty much 99% of Renfields songs are about horror movies, with samples of the movies in between each song.
I got to witness some rap fans at the Blue Parrot basically attempt to harangue or somehow shout down the band in between songs, basically they wanted the band off the stage. Something inside me made me want to say something to these guys, who I was not more than ten feet from, but I was there to see a band I thoroughly enjoy, not get beat up, and worse, get kicked out of the bar for some stupid reason and have to miss The Renfields.
Talking to Vincent for the aforementioned publications, I got to talk to him about how much he loves slasher flicks and horror films. I heard about him moving the Renfields from a bedroom 4-track project into a full band. The crazy thing about talking to him about his band is, I don't like scary horror movies at all, really. Knowing that The Renfields are singing songs about horrific murders and killers, almost blows your mind because of how fun, catchy, and raw the songs were.
"Driving through the city with a body in the back -- Machete a Go Go!" Vincent sings on "Machete a Go Go," on
Bastard Sons of Ed Wood,
and you will likely be singing right along with him about going out on a Friday night committing random acts of murder.
While there are horror core type bands, rappers, etc., the thing that I always loved about The Renfields is an almost kid-like joy for their music and the movies -- think "Slumber Party Massacre" off
Bastard Sons...
.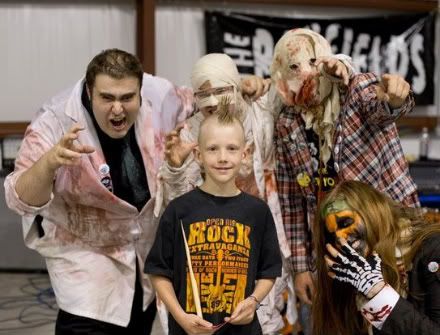 This kid looks like I feel when it comes to The Renfields. If he discovered the band at a roller derby, more power to him. Regardless, I think they've made a new fan...
But, since hearing their CDs,
Bastard Sons...
and
The Night THEY Came Home
, I have always thought that if The Renfields never played another show or put out another CD, they would forever be on my personal pedestal of all-time favorite punk bands. I mean that.
When I personally transcribed Vincent's liner notes from
Bastard Sons...
onto the download page on the WVRockscene bandcamp site, I did it to show Renfields fans how much Vincent loves his band, and horror movies.
Off and on my entire life, I've rode skateboards, so I don't hold it against anyone wanting to have fun skating. Skateboarding for me and so many others is about individuality and creativity and having fun doing it. I know there are great skaters out there who can bust all kinds of tricks on rollerblades and roller skates, but roller derby to me seems like skating's functional equivalent of a NASCAR race.
I won't here question the underlying motives of the women who join roller derby teams. I won't ask how many of them skate for fun in their spare time when nobody is watching, no money is involved, and they're wearing normal clothing. And yeah it might be cool to knock the hell out of someone riding rollerblades, but I don't think back in fond reminiscence about how Christian Hosoi knocked Tony Hawk off his board that time in their one-time heated rivalry in vert skating.
And look, if The Renfields want to attach themselves to roller derby, which they apparently have, that's great. Hopefully they can make new fans at these events. The Renfields have played a few horror movie themed events, and they are set to play The V Club this month for a This Ain't No Disco showing of Teenage Strangler. If the band makes fans just from horror fans at things like Zombie Walk, that seems logical, and awesome of course.
It just seems weird to think that the publicity The Renfields are receiving piggybacking on roller derby is saying something like:
"If you like roller derby, then you'll love The Renfields!"
Maybe that's true, maybe not.
I just don't want to see one of my favorite bands become something similar to Kenny Powers signing baseballs at Ashley Shaffer BMW. A gimmick. A sideshow, of sorts. Somebody else's background noise.
If I talked to Vincent today about the band, I'd ask how Dave Cantrell and Bryan Flowers have fit into the band. Think about how much they must love the band driving up to Clarksburg to rehearse. I'd ask Vincent how they have been received at these roller derby events, I'd ask when the follow-up to Stalk and Slash Splatterama Part 2 is/would be coming out, if the band has continued its drift away from the catchy punk rock towards a blacker sound, I would ask Vincent if he has been digging any new horror movies, and I'd ask if they'd written any new songs not about roller derby.
But really the only thing I'd tell Vincent with any authority is how much I still love The Renfields. I'd try to explain how much getting to cover his band has made me more excited about covering bands. That I still have the print version of that Graffiti article, the certificate of re-animation he gave me in 2007 (I was run over with a lawnmower) the pumpkin mask and the Renfields patch and yeah, I may be in some fashion neurotically protective of the band.
I just hope people love the band, their songs, and their CDs, as much as I do.
Renfields GO.
--- Listen to Bastard Sons of Ed Wood in its entirety below and do visit the WVRockscene bandcamp page to hear The Night THEY Came Home...
The Renfields: Bastard Sons of Ed Wood