DIY or die: Christopher Lusher didn't wait around to have someone else feature artists in Huntington. The 37-year old multimedia artist follows up on June's Destructive Criticism show with tonight's show, It Is What It Is, with over 20 area artists.


Reposted from The Huntington Herald-Dispatch
Christopher Lusher wears his philosophy about life, and art, literally on his sleeve: it is what it is. The 37-year old multimedia artist has the cliché phrase tattooed in cursive on his left forearm, and it also happens to be the name and theme of the art show he's hosting Friday.
"That's exactly it, that's the idea," Lusher explained over the phone, laughing and describing the obviousness of the title. "Someone asked me the other day 'What's the theme for the show?' And that's what I told them, 'There is no theme, hence the title, it is what it is, it's everything.' I thought it was a great name for an art show.
It Is What It Is runs from 6 to 9 p.m. Friday at Rivers Towers West, and is free to the public.
Heavily influenced by his teenage years as a skateboarder, and after moving from comic book art and drawing as a kid in Proctorville, Ohio, to painting, collages, street photography and more recent mixed media work (all of which are featured on his
Hillbilly Magazine tumblr site
) Lusher said that a very real do-it-yourself punk attitude infuses his art.
"When I look back on my life and think about what informs me now, and makes me who I am today, it goes back to that aesthetic I got from skateboarding. Doing that, you become so independently minded, because back in the day, you had to have tough skin, not so much now, people would come at you with hammers. So there was always me relating to this outsider mentality and doing things yourself."
That DIY mentality has helped Lusher corral over 20 area artists for It Is What It Is, the follow-up show to Destructive Criticism, held in June. Lusher said his first show as a curator turned out great.
"It was more of a success than anyone had really bargained for. I think five or six artists sold. The one thing it did was it seemed to inspire a lot of people to start doing stuff. Most artists are usually kind of self-conscious, and a lot of the people who went to the show, who make art, it gave them the impetus to come out of their box and start putting their stuff out there, so it was great.
"Everybody from that last show was so stoked. It was like, 'Get it of the internet, it's not a jpeg.' It's like 'Oh my God, that thing is eight feet tall.' You can see it in person. It's not the size of a postage stamp on your computer, it's in your face."
Huntington needs a place for in your face, outsider art, with a casual atmosphere where artists can show their work, Lusher said. And if you believe that a naked woman equals porn, you might just puke with rage at Friday's show. Lusher said he wouldn't have it any other way.
"I don't want someone to look at something I've done and say 'Oh that's not too bad,' because what they're saying is, 'I don't care for this at all.' But if someone says 'This is the worst thing I've seen in my life,' that, to me is the same thing as saying it's the greatest thing they've seen, because they're having a visceral reaction, on either end of the spectrum. It's a good thing. Some people can't handle criticism, but it's great if you make someone have a really, really potent reaction, positive or negative."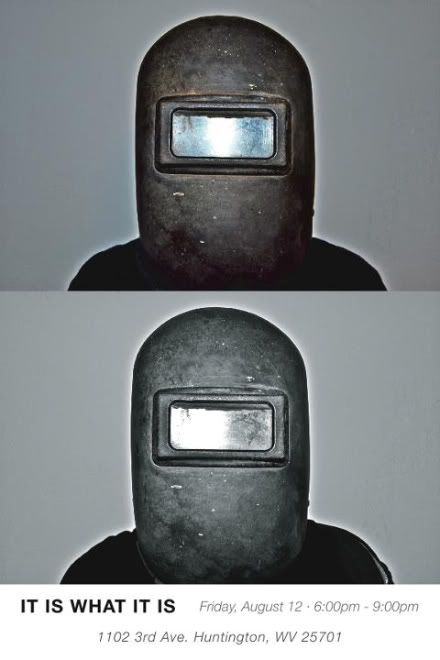 And don't worry about monocles falling out of shocked highbrow eye sockets into glasses of sherry and champagne Friday night, Lusher said.
"I don't want to be at a place with an atmosphere of a dentist's office, sterile and stodgy, with a bunch of people standing close to each other and whispering. I'm trying to create more an atmosphere of a barbecue; there's music and beer, and you don't have to worry about holding your wine glass right."
Lusher said giving other artists a venue to show their work in public is what it's all about for him.
"It's the best feeling in the world," he said. "I think it gets to the point with everyone where 'I'm not going to Marshall, so I'm not going to be in a gallery in Huntington,' because, let's face it, I mean, they've monopolized everything to the point where there's nowhere to show anything unless you're a student. My whole thing was, 'Who cares?' I have this space, and we're going to utilize this space and do our own thing because nobody is going to do it for us.
"A lot of people sit around and say 'I know I'm talented, but I don't understand why no one is paying attention to me.' But if you're sitting around waiting for someone to show up at your door with a bag of money, if you're into art thinking you're going to make money, I got harsh news for you: it isn't going to happen.
"That's not why I do it, anyway, I just don't know how to do anything else."
IF YOU GO:
It Is What It Is
1102 3rd Avenue, Huntington
Friday, August 12 6-9 p.m.
Update 8.14:
To see works featured in It Is What It Is, visit John Drake's Faebook set
here
.
Hillbilly Magazine on tumblr (not safe for work)
www.hillbillymagazine.tumblr.com/
Related:
Focus on the Photographers
Q&A w/Lusher from June
Video:
EyeBOX Productions