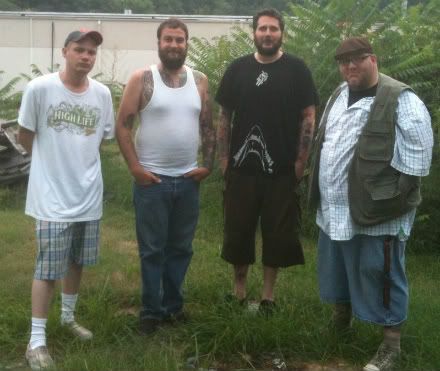 photo: Gordon Grant
L-R: John E. Sizemore, Jude Blevins, Jon Dunlap, and Jason Robinson (plus the not pictured Jimbo Valentine) comprise the improvisational rock project The Elvis Presley Murder Files, which plays the V Club Thursday night, and really doesn't know who killed Elvis...
Reposted from
The Huntington Herald-Dispatch
Gathering on a Sunday to rehearse for just their second gig, the guys in
The Elvis Presley Murder Files
practice just like they play: by the seat of their pants.
The instrumental, improvisational rock outfit brought back to life by guitarist John E. Sizemore and bassist Jason "Roadblock" Robinson, whether it's live on stage, or live at Sizemore's house, makes it a point to shake things up and throw any semblance of musical structure out the window.
And before you get to how, really, what EPMF is doing is closer to jazz than what a lot of area rock bands are doing, you have to get the easiest, yet toughest, question out of the way: who killed Elvis?
"I don't know if Elvis was murdered, and really, I don't care," Sizemore said to some group laughter, whilst throwing out the hypothetical suspects of Jerry Lee Lewis, and maybe Richard Nixon.
The Elvis Presley Murder Files play
the V Club
Thursday night as part of the
This Ain't No Disco
series.
After the subject of "the king" had left the building, the discussion turned to what makes EPMF unique as a rock and roll project. Started out originally by Sizemore and a friend a few years ago, and recently re-animated with his Scrap Iron Pickers band mate Roadblock, the two each point out that they really don't know what to expect on stage.
"We do the same thing here at practice that we do at the shows, pretty much," Sizemore said. "We might start out loosely with a theme, and then somebody will start on something and that's it. We're getting a little more structured, but not really. There might be one or two songs structured for this next show, but they probably won't be the same for the show."
After recruiting drummer Jude Blevins and guitarist Jon Dunlap for their first show in April, and bringing on Huntington's Jimbo Valentine for synth and ambient duties, Elvis Presley Murder Files was fully formed.
"It's jazz," Robinson explained. "In traditional jazz a group of musicians would show up at a club, someone would yell out a key, and sometimes they'd have a melody to go off of, and they'd start playing. It's come to the point now where jazz is even getting more structured. And that's why I call the Scrap Iron Pickers jazz, too. It's almost more progressive fusion, and a little heavier. But Elvis Presley Murder Files is like pure, freeform jazz. It doesn't matter what anybody is doing, it's just musicians making music together in an improvisational way."
"And not to compare us to Miles Davis, but hell, he didn't practice with those musicians," Sizemore said jumping back in. "They showed up for the gig and did the gig. And that's kind of what we're doing in spirit."
"It's just freeform improvisation," Roadblock continued. "If people come to see the show, they might not correlate it to jazz, but that's what it is. But, we don't do heroin, so it's not jazz, and we all take baths, so it's not hippie," the bassist said to much laughter.
Blevins, a member of the Huntington-area doom/drone band Hyatari, having driven an hour and forty-five minutes to rehearse at Sizemore's Nitro home, said the Elvis Presley Murder style suits him just fine.
"It's kind of like Satchell, when me and John [Vanover] get together; open and freeform. You've got to have some fun with it."
While comparing and contrasting what they do in Elvis Presley Murder Files to Scrap Iron Pickers, Roadblock said the former wouldn't exist if not for the latter.
"I think the Scrap Iron Pickers' CD [Redeeming Metal/Union] actually pushed us more to do Elvis Presley Murder Files. On the second half of the CD [Union] we went out and actively looked for people we wanted to play with, and brought them in the studio to record.
"That's the difference between Scrap Iron Pickers and Elvis Presley Murder Files; [EPMF] is just like a different personality of us. Some of the Elvis Presley Murder riffs, you might hear in Scrap Iron Pickers stuff, and vice versa. But Scrap Iron Pickers is more structured. Elvis Presley Murder Files is no limits, no rules or nothing."
Sizemore said the collaboration in Scrap Iron Pickers, and the musical chemistry between him and Roadblock, lends itself well to the unstructured style Elvis Presley Murder is going for.
"Block's a good friend. And he's a good friend I make music with."
"We kind of know what each other will do musically," Roadblock said, jumping back in. "And we don't have any big hang-ups in our lives outside of music."
"We're just musicians making music like everybody should be playing, not getting hung up on who's writing what and playing what," Sizemore said. "We all constantly write, so whoever wants to can bring anything to the table. There's no standstill with the music."
While saying that he makes it as high a priority as his and everyone else's life allows, Sizemore said he hopes to continue the fun times making music.
"I want to keep doing this. Absolutely."
Maybe unwittingly drawing a parallel between the Elvis Presley Murder style and their own lives, Roadblock summed it all up.
"Sometimes it can fall apart, but the cool part is bringing it back together."
IF YOU GO:
The Elvis Presley Murder Files
Where:
The V Club, 741 6th Ave., (304) 781-0680
When:
Thursday, July 28, 10 p.m.
Cost:
$3
Info:
www.vclublive.com