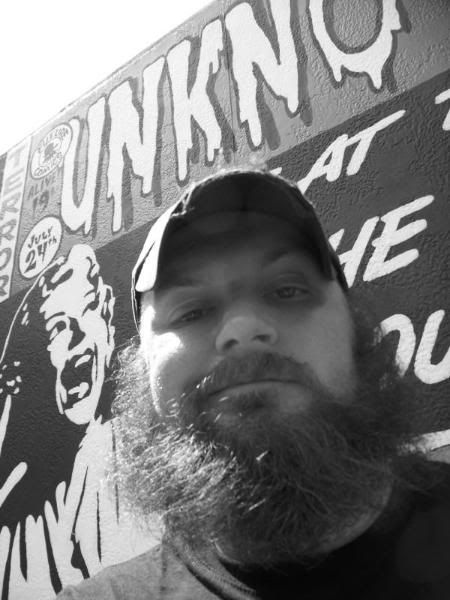 30-year old Barboursville resident Jimbo Valentine stands in front of his
Unknown Hinson
mural at
the V Club
in Huntington
James Alden Valentine III got an early start on his artistic career.
"When I got tested before kindergarten, they told me to draw a picture of myself, so I draw my little blob looking life-form resembling me, and gave it gigantic ears, because everyone always told me I had big ears. That's the first picture I ever remember drawing."
Since then, Valentine has definitely progressed as an artist; he has run
Amalgam Unlimited
, his own screenprinting and design company, for a few years now, and has worked with several rockin' local bands, making flyers, CD layouts, shirts and merch.
When you've asked yourself in recent months who's made those awesome flyers for
Clutch
and
Karma To Burn
, or who it was that painted the big
Hank III
and Hinson murals at the V, it was him.
You may know him as Jimbo.
He's been doing a lot of great work, recently designing artwork for
West By God's
For Glory or for Flames
and
Treasure Cat
, and he said it's been gaining steam.
"It's steadily growing and I've been doing stuff that I'm really proud of. I still haven't gotten to the point where I can totally live off of art, but I keep getting some pretty sweet gigs that have gotten me other gigs, so the word of mouth is growing, and that's a good feeling."
Aside from a "couple of minor speed bumps involving wheels flying off of cars and stuff like that," 2009 has been pretty good for him, he admitted over email.
Looking over his stash of gig posters, band art, propaganda and older paintings and art, it's hard to pick what to include, aside from the flyers. Whether it's his surrealist, sick apocalyptic collages to the childlike freehand art like Hellijah the Hilljack Rabbit or Overbite Oakley, it's obvious that he's been making art for a while, is good at it, and loves doing it.
"I just like making both, in the end I probably make more darker stuff, but I definitely still have that inner child that's always giving me ideas as well. I'm trying to work up ideas for a kid's book about a girl named Overbite Oakley. I have three nephews and a niece and lots of friends with kids so that really helps to keep me in tune as well. They are all so fun and random, I love it."
And just like musicians create music as catharsis, Valentine sees his art. "There's been times when it has really helped me through some rough stuff," Jimbo said of his art.
"It's a good feeling to have someone want to have your art to represent their art. Doing posters for all three of the Karma To Burn West Virginia reunion dates and their London show is a big highlight so far this year."
Valentine doesn't just make the flyers but also dabbles in making music. Just like making art, he makes his music by himself, in the form of his electronic projects
This Drum Machine Kills Fascists
(a nod to Woody Guthrie) and
Soul of the Phoenix
, which will release
Astronautical
later this year.
"I plan to finish up
Astronautical
before the end of the year. Never played any of my stuff live, but I think it would be fun to work up a few songs to play at open mic night or something for shits and giggles."
So you may see Jimbo opening up for a band he makes a flyer for; he said that Huntington is pretty rockin' as far as shows go.
"The V Club has really put on some awesome shows; the Hank III show that was just there was hands down one of the best shows I've ever seen even if it was hotter than hell in there. It made like almost like some kind of religious experience. I've also seen some good shows at
Club Echo
lately. The Karma To Burn show there was epic to say the least."
So Jimbo and AU are gonna keep moving forward; Valentine will continue to attend Marshall ("I'm thinking about trying to drag it out another 100 years," he said of his continuing education), he's involved with a Treasure Cat/
Sons of Alpha Centauri
split called
The Last Day of Summer
(due out later this year) and be seen at Huntington area shows, like his big murals.
"So everyone should come down, check them out, and enjoy a few tasty alcoholic beverages."