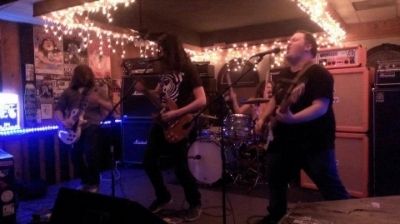 In 2015 Parkersburg-based stoner rockers Horseburner are looking to release a new record and play as many shows as possible. The band (Adam Nohe, Jack Thomas, Rob Howard, Zach Kaufman) will open for Byzantine for their CD release show (in Huntington) in April, and tonight will perform with Karma To Burn and Sierra at 123 Pleasant Street in Morgantown.
A few of the guys talked with WVRockscene about writing, recording, playing shows and grilling hamburgers...
WVRockscene: You guys are demoing new material -- how excited are you about writing and recording a debut full-length?
Adam Nohe: Oh man. I couldn't be more excited. We've passed 6 years together as a band, so I think it's well past time we finally got a full-length LP under our belts. Since we've been around for a bit, we've got a good number of songs out there. Some of the songs we're recording for this album are near five years old.
Rob Howard: A full-length is just the next step for us that we wanted to take as a band. It's always been important to us to keep things moving forward and we are so stoked on the new songs...and revamps of older ones too!
Jack Thomas: My previous two bands which were in the middle of writing for a full-length both stalled and broke up shortly after. Hopefully the third time is the charm? All kidding aside, I've got high hopes for this one.
rockscene: You most recently released Strange Giant in 2013 -- from then (and even Dirt City) to now, has much changed in the way you approach the process? You recorded a 7" D.I.Y. in your basement before sending it off will this new record follow a similar process?
Adam: Yeah, this is looking to be a fairly similar process. I think we're working on finding somewhere other than the basement to record this one, but we're doing everything in-house once again. We're really aiming to spend more time actually tracking this time. Spend more time getting the sounds we want, making sure each take is the right one. Without paying for a studio, we're afforded some extra time.
Rob: We love the ability to have complete creative control in the recording process. If Zach wants his guitar louder in a certain spot...or Adam wants more thud out of the kick drum, we have the advantage of messing with the faders with impunity.
Adam: On one hand, that's cool because we don't have an outside influence on the songs. But on the other hand, if they suck, that's all on us too.
rockscene: What is it about what is generally called stoner rock or this kind of more sludgy stuff, or classic rock inspired stuff or whatever you wanna call it that appeals to people after so many years and styles and genres?
Rob: I think there's something universal about the music that all of those genres come from. If you really think about it...All of the prototypical bands that would go on to inspire the countless number of weirdos in their bedroom rebelling against their parents or "the man" ...they all had one thing in common. How many of those bands do you actually SING the guitar riff? THAT to me is the enduring legacy from bands like Sabbath, Zeppelin, Deep Purple....hell, even Rick Derringer or Edgar Winter for that matter. ALL of those bands had riffs you sing...and the music is so infectious that you can't escape it.
Adam: For me, some of the classic rock bands were some of the best. Not to say I don't listen to more current artists as well, but take a band like Thin Lizzy or Tom Petty. Those songs, those riffs, they stick with you. And especially with Lizzy or Petty, those guys were just cool. If anyone brings some level of that vibe, I think people will latch onto it.
Jack: I think another big part of the appeal is aesthetic. Everything, the amps, drums, volume level, is larger-than-life. There's a certain raw energy, a "no rules, just be loud and fuzzy" attitude not found in other genres.
rockscene: You guys are from Parkersburg. You don't hear a lot about Parkersburg as it relates to cool rock bands or shows do you think that's an accurate assessment? Are there venues to play? Cool bands? Is it an asset kind of being in between Morgantown, Charleston and Huntington, geographically?
Jack: There are still a few fantastic musicians and bands in the area who are friends of ours. There's pop-punk band Street Food, hardcore band Killjoy, and more. The lack of a real music venue (one interested in more than just cover bands) is a big problem. It's just a lot less hassle to make the short trip to Morgantown, Huntington, Columbus, OH, etc.
Adam: Funny story. We're opening for Byzantine's album release show in Huntington later this year. Yet, we were not approached by anyone to play their Parkersburg date. Figure that, ha. Parkersburg used to be really cool for shows. When we had dedicated all-ages venues, it was great. Shows every weekend. Then those died out and we did the D.I.Y. thing with houses and renting halls or community buildings. Then that died out a few years ago, so there's not much of anything going on anymore.
I don't hear of any shows or even bands really anymore unless my friends are in them. It's shocking to me. Back when Jack and Zach and I were in high school, it seemed like half the school played in a band or came to shows. Now, I'm a teacher and it seems like hardly any of the kids even listen to music, let alone play it. That makes me sad for them to not have that experience. Those formative experiences for me are irreplaceable. Rob was in the Parkersburg scene years before we were, so I'm sure that as much as I see a difference, he has to see an even bigger one.
Rob: I'll use my "old man" status again.... When I was a teenager, the Internet didn't exist on the plane that it does now. We had to create our own fun. So there was somewhat of a burgeoning scene that started in Parkersburg/Marietta by a few college kids and the random kids who caught a Bad Religion video on 120 Minutes.
There were countless bands from here. A few good ones...A lot more not good but just kids having the time of their lives. I suppose the biggest band to come out of here was Zao (not from Pennsylvania like others may say). And they seemed to do pretty well for themselves.
My generation's scene died in around 1999. However, after a couple of years, the guys in my band resuscitated it as best they could. But what's terrifying and depressing to me is that I'm not sure something like that can happen again. I realize every generation is different. But it's such a bummer to me to not see kids actually picking up an instrument and making a fool of themselves by belonging to a music community.

-----
rockscene: You guys (I think Adam specifically) had posted on the band profile about how special Huntington was/is to Horseburner as far as support and friends and misery. How special is Huntington and the V Club to Horseburner?
Rob: I was born in Huntington. Spent the first few years of my life there. I always have a soft spot in my heart for that town, (and a Gino's Pubwich) and the wonderful humans we've been lucky enough to have in our lives who call Huntington home.
Adam: I think if you read that post through, you get an idea. Huntington is one of those places that's become more of a home to us than Parkersburg. We have more fans down there than here. We've met so many awesome people there, many who have become close personal friends. Every time we make a trip down there, it feels like a homecoming. Down there, everyone, we're all miserable, but we're all miserable together.
rockscene: You guys have a bandcamp page and Rob was asked in an interview about label support how important IS a label in this day and age do you think?
Adam: I think it depends on your goals. If you just want to record and release some music online, it's never been easier to do that than right now. However, I think if you want to widen your reach, having a label can be a great way to get that support. I'm not saying throw your name on any contract placed in front of you, but if you find people you trust, and you dig what they do and they dig what you do, why not? As long as you're not expecting to magically morph into some global phenomenon, and you put your share of the work in, I can't see how it wouldn't be beneficial.
rockscene: How excited are you to open for Karma To Burn Friday at 123 Pleasant Street?
Adam: Dude, I'm really stoked for the show.
Rob: Super pumped. Those guys have been kicking ass for many years and it's a testament to the spirit of rock staying alive in all of us.
Adam: Our buddy Evan [Devine], who used to play in Ancient Shores (and may possibly still be in Sweet Life and who knows how many other bands), ended up filling the drum seat for Karma to Burn. It's been awesome to watch him as he documents life on the road. Personally, I'm kind of living vicariously through his Instagram account. But the bands rule, 123 Pleasant Street rules, and we have tons of awesome friends in Morgantown. It's going to be a good time, man.
rockscene: Just how passionate are you guys about grilling hamburgers? More than most bands?
Rob: A wise man once said, "No life til burger."
Adam: I remember several of the cities we've played or visited based soley on where I got a great burger. I would challenge any other band to match our passion for burgers. I guarantee they will come up short. Except maybe Lo-Pan from Columbus...
Jack: I think pizza and burritos deserve an honorable mention too.
rockscene: Aside from getting the new record out do you guys have anything you're looking forward to in 2015? Shows? Tour? Grilling hamburgers?
Adam: Like you said, we're focusing on the record right now. We're also looking into booking as we speak. I said we have the Byzantine show coming up. We're working on some short summer tours, we're working on spring weekends. Every year, we're like, "Let's play more shows than ever!!!" and then life gets in the way. I'm hoping that this year, we can really get out there and hit the road. We haven't done that as much in the last year, and it's been slowly driving me insane. So, if all goes as I think it will, expect to see us revisit the northeast, midwest, and the south sooner rather later.
Jack: Personally, I'm most excited to watch more New Japan Pro Wrestling and to NOT cut my hair (my worst decision of 2014).
Adam: We're hoping Jack brings his dreads back.
rockscene: It seems like, whatever genre or style you get plugged into, for most musicians it seems to come back to having fun sharing something you love (music/rocking out onstage) with friends and fans. The vast majority of bands will never be a commercial success or barely break even. Is just having fun and having the respect of your peers what it's all about at the end of the day?
Jack: When it comes to playing music, having fun is always priority number one. I think everyone in the band has lost interest in music at one point or another, but we all come back around. It's addicting. There's no feeling quite like it.
Rob: Fun. It really is about fun. If money was the driving interest, I'm not sure that many bands would have even started in the first place. For me, money isn't where I define success. Playing to a boatload of people who enjoy what you're doing IS. I would honestly take no pay to get the rush of a huge show where everyone was just waiting to hear that first note. You play music for yourself... but wow it sure is amazing when you have a group of people who want to share that same experience with you at the same time. That is the essence of rock and roll to me.
Adam: It's all about the experience of sharing the energy, the vibes, and this thing, whatever it is, that we've created. I know it sounds cheesy, but for me it's this cathartic, almost spiritual thing. To have that energy passed between the four of us, to the crowd, back to us, it's the only reason to do what we do.