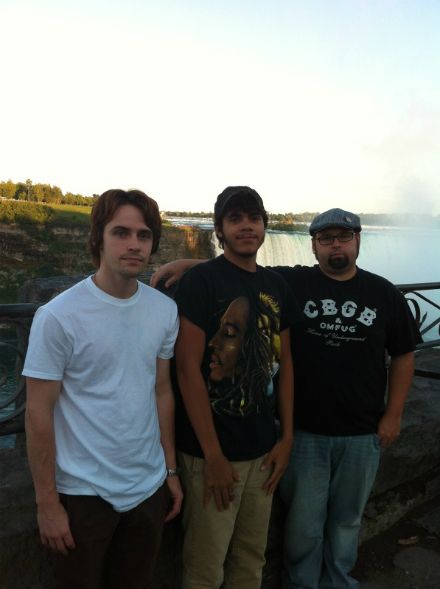 Charleston punk band Miniature Giant is singer/guitarist Michael Workman, drummer Jeremy Brown and bassist John Ballard. The trio joins forces with city ska band The Tom McGees for a show at the Blue Parrot on Friday. (Photo by Mike Workman.)
Reposted from
The Charleston Gazette
CHARLESTON, W.Va. -- To borrow from the famous U.S. Supreme Court opinion on pornography, when it comes to punk rock, fans know it when they hear it. And for the guys in
Miniature Giant
, while defining it is an obtuse exercise, punk rock is definitely something they know.
The Charleston-area punk band formed just over a year ago. It recently released its debut EP, "The Superhero Chronicles."
The band formed out of the nucleus of singer/guitarist Michael Workman and drummer Jeremy Brown, then added bassist John Ballard, before setting out on its own punk rock journey -- which includes a stop Friday at The Blue Parrot with ska band
The Tom McGees
.
For Workman, who played in metal bands War Creek Mafia and White Chapel District, starting a punk band was -- and is -- all about freedom and fun. He said he found his passion after his uncle gave him a copy of Nirvana's "Nevermind."
"From there, I was like 'THAT! That is exactly what I want to do,'" Workman said. "I started to get into punk rock through that album."
Ballard, the elder statesman of the band, dates his affection for the genre back 20 years. As an impressionable high school sophomore, he discovered the
NOFX
album "Ribbed" and was hooked.
Being interviewed on the way to see punk icon
Henry Rollins
served as a nice jumping-off point to discuss what the band sees as the more redeeming qualities of the genre, which is sometimes perceived as anti-intellectual. Quoting
The Minutemen
's D. Boon, Ballard said punk rock is whatever you make it.
"It makes you question things," he said. "You don't just get in line and say what everyone else says or do what everyone else does.
"Like Black Flag, for instance, since we're going to see Rollins. They had a major role in making people question everything. [You're thinking] 'This is how I feel. I'm going insane, and nobody's singing about that.' And then they come out with something like 'Nervous Breakdown' or 'Fix Me,' and you're like 'Wow! This is how I feel!'"
The guys in Miniature Giant feel pretty good about "The Superhero Chronicles." Over the course of three 12-hour days at Toronto's Drive Studios, they worked with renowned producers Steve Rizun and Mike Liorti to further hone their craft.
"Listening to it in the studio was really different," Workman said of the EP. "Up until that point, we'd only had a little boom-box recording. We just set the recorder up in the band room, hit record, played our songs and stopped when we were done.
"When we were in the studio, we could go back and actually say, 'Well, let's change this guitar part up a little bit.' [We were] able to really work on the songs and craft them, as opposed to just, 'Let's throw a song together.'"
For the 22-year-old Workman, a lead singer for the first time, it was indeed a learning experience. "Especially with vocal arrangements," he said. "That's a little bit of a thing we've been working at."
The best thing about the recording session, he said, was "just being able to work with people who have an ear for it and who do it for a living, who work with people who are where we want to be. Just that environment in general was really informative and eye opening because a lot more goes into it than what people think."
"They were awesome," Ballard added.
"They've worked with The Flatliners, Andrew Jackson Jihad, Mean Tangerine, a lot of big bands that tour the world," Workman added with a mixture of pride and awe.
Miniature Giant has been discussing joining Canadian punks
The Motorleague
, currently touring the United States, for an East Coast tour next summer.
"It's awesome," Ballard said. "My last band, when it broke up, I thought, 'That's it. That was my last chance.' I was like, 'Well, I'm done.'
"Luckily, I wasn't."
WANT TO GO?
Miniature Giant
With The Tom McGees, Dinosaur Burps and Beggars Clan
WHEN:
10 p.m. Friday
WHERE:
The Blue Parrot, 14 Capitol St,
COST:
$5
INFO:
304-342-2583