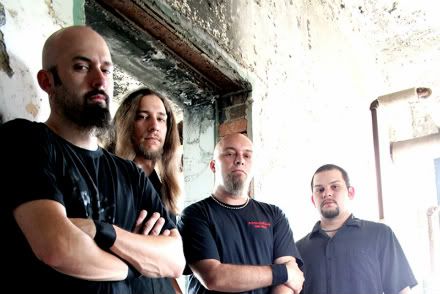 Byzantine (L-R: Chris Ojeda, Skip Cromer, Tony Rohrbough, Matt Wolfe) is back together with local shows and a new album due out in November.
Reposted from The Huntington Herald-Dispatch
To hear the guys in
Byzantine
talk, you'd think they were just another local metal band with something to prove. Hearing them talk about their new record, having lead guitarist Tony Rohrbough back in the band after a three year absence, with a string of local shows lined up, Byzantine and their fans are rightly excited.
No local metal band has three major label releases and European tours under their belt. Since being birthed out of Chapmanville in 2000, four years removed from "Oblivion Beckons," their last release, which, promptly upon release, fittingly enough saw the band go on indefinite hiatus, Byzantine has built and maintained a passionate fan base and achieved critical acclaim for their progressive, melodic version of metal.
Together for a rehearsal at Rohrbough's house in Weston, you get the sense that thing are back to basics and Byzantine is making music on their terms. After a heart attack prompted Rohrbough's move back to West Virginia from Charlotte, where he'd lived for three years, Byzantine was indeed back in business.
Rohrbough described the organic process of the band coming back from oblivion.
"We were all just chatting, sending emails and demos back and forth. Originally the thought was 'Look, why don't we get together casually whenever we want, throw some ideas out and see how it works?'"
Byzantine plays The Sound Factory in Charleston Friday night, and The V Club Saturday night, with a new, fan-funded, self-titled release in the can and slated for a November release.
"I don't think it would've happened without him," lead singer and rhythm guitarist Chris "OJ" Ojeda said of getting Rohrbough back in the band. "Once we got Tony back in, it all flowed real easily. Of course, he and I started the band, and he's a huge, integral part of the sound. I knew without him it wouldn't be the same.
"It didn't feel like we jumped back on the bicycle, because it was all new stuff we hadn't played before, so it was hard," Ojeda said. "But you can't tell listening to the album; it's fantastic. Once we started playing the old stuff, like "Hatfield" and "Jeremiad," then it felt like we hadn't missed a beat."
Drummer Matt Wolfe seconded that.
"It went a lot smoother than I thought it would after so long. But it's a chemistry thing. If you put the four of us in a room, something's going to happen musically. It's been really cool to get back together and get some frustrations out playing some metal."
"It's still great, hearing what OJ and Tony write," bassist Skip Cromer added. "I have the unique opportunity to hear it first, almost as an outsider. The fact that I get to play on it is even better. I'm still as pumped today to be jamming with these guys as I was in 2005. They keep me on my toes, to say the least."
So one thing led to another. Demos led to rehearsals and that led to recording. One problem: recording budget, or lack thereof. Enter Byzantine's fans, who pitched in with financial support via the band's Kickstarter fundraising campaign.
"We were like 'This is cool, let's see if we can do an album,'" Rohrbough said. "So we started the Kickstarter page, to try to raise money, and it just blew up. So then it became something that wasn't as casual. It was like 'This is real, we need to get to work,'" he said, laughing hard.
Rohrbough, describing the nine songs on the new record, said he expects Byzantine's fans to love them.
"It's actually, in places, a lot more mellow and melodic, and in parts there are more blast beats, so you get more of the extremes. We really spent more time on the spit-and-polish on these songs, because we were sharing demos, we didn't have a lot of time to get together.
"So the songs came out polished, and very, prog, you know? I'm gonna say prog," he said with a laugh. "But there's some extreme stuff and some very, very mellow stuff. We hit a larger gamut than we usually hit. The focus has kind of expanded."
With a renewed energy and an expanded focus, Ojeda said one thing is back to normal in Byzantine: having fun playing metal.
"The last album we did, everything kind of felt wrong. We were all going different ways. We just wanted to get our music out and have fun," Ojeda said, with added emphasis on the last two words, almost as if it was an alien concept. "And it got not fun. Once we realized it was going to be over the label, it started getting bad, and it fed into our personal relationships, and that all culminated in us having a big, big layoff."
Byzantine has teamed up with Gravedancer Records to help get the new record out. Any frustrations the band may have had with record labels are in the past, OJ said.
"There was a lot of bitterness towards the end, toward the label," Ojeda said. "We were trying to open doors and we found out they were kind of shutting them on us. We knew we weren't going to be able to tour a lot, we were an older band, and they wanted to focus on 18-year old kids who didn't mind sleeping in a van their entire lives."
"You have to remember, we're an older band," Rohrbough added. "When we first got signed and put out our first album, I was in my mid-30's. Usually it's a much younger game. It's a much younger game for kids who don't have a lot of responsibility. Honestly, I can't imagine us jumping on a bus and going out on tour now, they really don't make such a thing as a road nanny," he said, laughing hard.
Cromer summed up his thoughts on having Byzantine back together, making music again, and having kept their fans all these years.
"The difference between a band like Byzantine and your industry standard, cookie-cutter band, is we don't follow any of the metal fads. We like what we like, and if it's good, we roll with it. I think Byzantine stands out amongst the fad bands because we don't adhere to anyone's standard. Never have and never will.
"As a band, we come up with stuff we like, and if we like it, we hope other people do too," Cromer added. "The fact that it's still in demand by these people who were coming to see us years ago, it's a gift, as far as I'm concerned."
--- Byzantine plays The Sound Factory tonight with John Lancaster and Fall Before Your Creator, and plays The V Club tomorrow night...
IF YOU GO
Byzantine w/Horseburner, Saprogen
WHERE:
The V Club, 741 6th Ave.
WHEN:
10 p.m., Saturday, Aug. 18
COST:
$12 adv., $15 DOS
INFO:
www.vclublive.com
ONLINE:
www.facebook.com/Byzantinewv
Related:
Byzantine: Back From Oblivion
(Sept. 2010 H-D article)