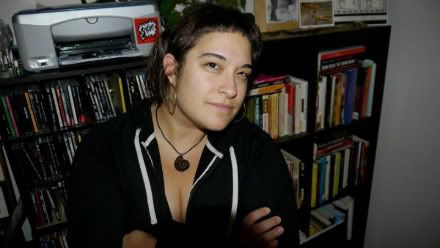 Washington, D.C.-based documentary filmmaker Amy "KC" Oden (above) comes to Huntington tonight for a screening of From the Back of the Room, her recently released film about the contributions women have made to the punk/DIY scenes over the years...
Reposted from The Huntington Herald-Dispatch
There is no vast, benevolent collective consciousness that oversees punk rock like some sort of deity. People bring their own attitudes and yes, ignorance into outlets (songs and shows) that for so long embraced, at its best, progressive causes and solidarity, at its worst, violence, racism, and sexism.
For Washington D.C.-based documentary filmmaker Amy "KC" Oden, it was an ugly incident at a local show that drove her to make "
From the Back of the Room
," which chronicles the contributions women have made to the punk, hardcore and do-it-yourself movements over the past few decades.
Oden comes to Blank Gallery in Huntington Saturday night for a screening of the documentary.
"The first thing that really attracted me to punk, like so many people, was the energy," Oden said over the phone on the way to Detroit for the Allied Media Conference and a workshop on D.I.Y. film production.
After starting going to punk shows in the D.C. area as barely a teenager in the mid-90's, and getting turned on to D.C. punk bands like Bad Brains, Amy was indeed a punk rocker.
It was only after her feminist perspective crystallized as an adult, and one particular incident at a local show Oden was clued into, that combined to serve as the impetus to make the documentary.
"This guy was approached by a friend of his who told him she was treated really inappropriately at a show and was being pushed around and she wasn't sure she wanted to participate in this community anymore, and it was really heartbreaking for her," Oden said.
"He was the kind of person who'd thought always about these ideas, and he's been involved in collective organizing for feminist events in the D.C. area. So I think something clicked in his brain and he was like 'Alright we have to do something about this.'
"He actually got in touch with me, and we just started talking and it went from there."
Four years later, after traveling the U.S. and Canada to interview notable female punks like Kathleen Hanna (Bikini Kill/Le Tigre) among others, "From the Back of the Room" was released in August of last year to critical praise and a warm embrace from those in the punk/hardcore/D.I.Y. community.
"Kathleen Hanna was definitely awesome," Oden said. "Another favorite was Anna Joy from Blatz, just because I listened to them a lot growing up. She's an English teacher at a university in California and she's just really articulate and in touch."
Oden said one thing that surprised her was the diversity of opinion inside of the community of rockers she interviewed.
"You know, it's funny, you don't think about how nuanced things are until you look at something up close, like anything, even a group you consider yourself a part of."
Bringing the stories of how important punk and hardcore have been to these women over the years, in person and at the screenings for the documentary, is what it's all about for Oden.
"At first I was intimidated, because you're just meeting people all the time. But I'm into it, it's been really fun doing the screenings. It's almost like an immediate reward for the work that I put in. it just feels really good that people care enough about it to show up."
IF YOU GO
"From the Back of the Room" screening
WHERE:
Blank Gallery, 1102 3rd Ave., Huntington
WHEN:
Saturday, July 7
TIME:
7 P.M.
COST:
$5 donation strongly encouraged
ONLINE:
www.fromthebackoftheroom.com/