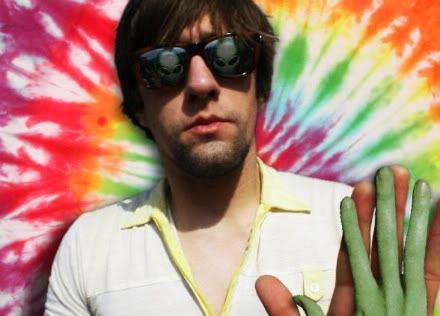 We liked him as Jude Universer. We love him as Rozwell Kid. In anticipation of Jordan Hudkins taking his side project out live Thursday night out in Shepherdstown, we caught up with him over email to see what's up with praise for The Rozwell Kid LP, who's in the live band, different animals and collectors items...
WVRockscene:
The Rozwell Kid LP
has been quite warmly received by critical press types -- how cool has it been to know people have been rocking the LP out with thumbs up?
Jordan Hudkins:
It feels great! There are some folks in the UK who love the album, so that's really cool! The other day, according to my Bandcamp stats, someone in Canada Googled "Rozwell Kid" -- I'm going global haha.
-----
WVRockscene:
Who's in the live Rozwell Kid band?
Hudkins:
I've got an All-Star lineup of dudes... It's going to be awesome! Adam Meisterhans will be recreating live all of those bodacious leads he played on the record. Andrew LaCara from The Resonators will be playing rhythm guitar. Devin Donnelly from Bitch Cave/Chick Salad fame will be playing bass. And Sean Hallock from Chambersburg PA's The Shackeltons will be manning the drums.
-----
WVRockscene:
I think I'd seen you mentioning a Rozwell Kid rehearsal on Facebook; how did that go? Are you ready to take Rozwell Kid out live?
Hudkins:
We've had three extended full band rehearsals, as well as two acoustic vocal practices. We've learned the whole record, front-to-back, and even worked up a surprise cover that should be a lot of fun. It's one of those songs I've dreamed about playing live in a band since I was in 9th grade. We're definitely ready.
-----
WVRockscene:
Is this the first AND last Rozwell Kid show, or will there be more going forward?
Hudkins:
This is definitely the first RK show, but it won't be the last. We're all having a great time jamming out these jams. The calendar fills up pretty quickly between The Demon Beat, Prison Book Club & The Shackeltons, but we're gonna work on fitting in some regional gigs this winter.
-----
WVRockscene:
I assume you will have many Rozwell Kid LPs for sale at the show?
Hudkins:
I've whipped together a few physical copies of the record. I'll have them at the show on a pay-what-you-want basis. I feel weird charging people for a burnt CD when they can wait until they get home to download the record for free. Now, if I had cassettes or vinyl, that's a different animal altogether. Now we're talking collectors items!
--- Rozwell Kid plays the Blue Moon Saloon Thursday night with The Continuals and Bratcore. Show starts at 9 p.m., and it's free.